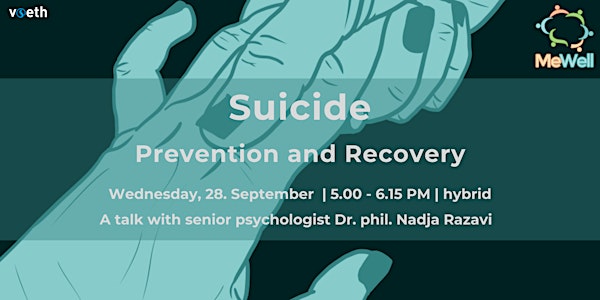 Suicide Prevention & Recovery
Suicide is a topic that is often labelled as taboo. All the more reason to talk and learn more about it. Join the event and help save lives!
When and where
Location
ETH Zürich Rämistrasse 101 HG F 33.1 8092 Zürich Switzerland
About this event
This talk will give a short overview about the epidemiology of suicide and suicide attempts in Switzerland and what currently is being done to prevent people to commit suicide.
Furthermore, it will give a short introduction on how suicidality can evolve, how psychiatrists and psychotherapists assess suicidality and what options you have, when someone in your environment shows signs of suicidality.
Finally, one of the most effective "post-suicide attempt" treatments is being presented (ASSIP).
In the end there will be an open question and answer round where questions can also be asked anonymously.
We invite all participants to stay for an apero, kindly sponsored by AVETH, after the talk.
About the Speaker
Dr. phil. Nadja Razavi is a senior psychologist in the crisis intervention ward in the Regionalspital Emmental since 2021. Before, she worked at the Universitäre Psychiatrische Dienste, Bern (UPD) starting 2012 in the field of diagnostics, emergency and crisis intervention and graduated in the neurophysiology department of the graduate school for health science in the University of Bern, investigating simultaneous EEG/fMRI in patients with schizophrenia.
Due to the highly sensitive nature of this event, there will be no recording and online participants have the possibility of staying anonymous.
If you are suffering from suicidal ideation or are in a psychological emergency please call 143.
Further information:
https://www.reden-kann-retten.ch
Crisis Intervention Center Zurich
Militärstrasse 8, 8021 Zürich
Telefon +41 (0)44 296 73 10
kiz@pukzh.ch
https://www.pukzh.ch/unsere-angebote/erwachsenenpsychiatrie/angebote/stationaere-angebote/krisenintervention/
Crisis Intervention Center Winterthur
Offers a Walk-in KIZ
Bleichestrasse 9, 8400 Winterthur
Montag - Freitag
08.30 - 10.30 Uhr
13.00 - 15.00 Uhr
https://ipw.ch/patienten-angehoerige/erwachsene/kriseninterventionszentrum