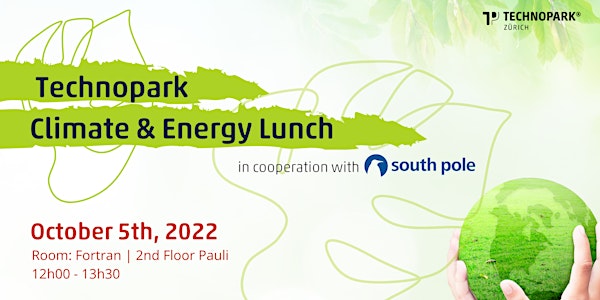 Surf the Cleantech Wave | October 5th, 2022
Technopark Climate & Energy Lunch
When and where
Location
TECHNOPARK Zürich Technoparkstrasse 1 Room FORTRAN, Pauli 2nd floor 8005 Zürich Switzerland
About this event
Surf the Cleantech Wave
Technopark Climate & Energy Lunch
Technopark Zurich | October 5th, 2022 | Room Fortran, 2nd Floor Pauli
This time with Tobias Cervenka , South Pole and Dominik Mohr, Technology Fund
Let's have some lunch and food for thought!
South Pole has experienced exceptional growth over the past few years. Is this the agenda for all cleantech related companies and is the cleantech wave just a business opportunity or effectively a string of hope for the planet?
Topics addressed:
Growth story of South Pole
How they support companies to become more sustainable
Current market trends in the cleantech field
As a special bonus: We show with two concrete examples how the technology fund can help to scale your product if it has a positive environmental impact.
Lunch (vegan sandwiches) will be provided. Come and join us for this interesting discussion.
Your Technopark Zurich Team