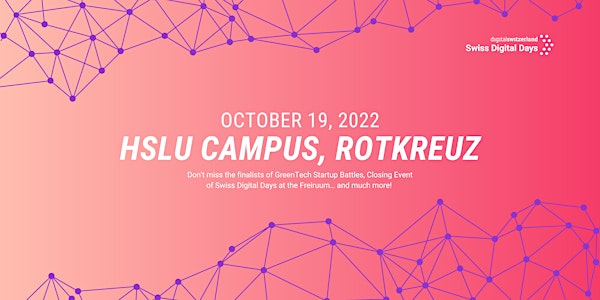 SWISS DIGITAL DAYS @ HSLU Campus, Rotkreuz | 19 Oct 2022 | Live & Online
Planning to visit Rigi? Come and see us too! Swiss Digital Days are coming to Central Switzerland
When and where
Location
HSLU Campus 4 Werftestrasse 6002 Luzern Switzerland
About this event
On 20 October, Swiss Digital Days will stop at the HSLU Campus.
What's inside our mysterious event bubbles? Stop by to find out!...
🟣 About the Location
Rotkreuz is the seventeenth of our 19 Live Locations where you can experience the #DigitalDays (offline).
In the inspirational setting of the HSLU Campus, you have the opportunity to join Swiss Digital Days, visit our event bubbles, and network with fellow digital enthusiasts.
🟣 Programme:
Love Startup Battles? Don't miss finalists pitch their sustainable ideas to make an impact in our GreenTech Startup Battle. And did you know the Closing Event of Swiss Digital Days is happening at the Freiruum?
Join us!
What do you get?
🟣 The chance to learn new digital skills
🟣 Watch live pitches from Switzerland's most talented Green startups
🟣 Get your tech problems answered
🟣 Pick from hundreds of online and physical events
🟣 About the #DigitalDays
Swiss Digital Days is back for the 6th year in a row!
Don't miss the chance to supercharge your digital knowledge for seven weeks across Switzerland.
👥 Who should attend:
Is digitalisation getting ahead of you?
Enter the Swiss Digital Days event bubbles and get up to speed. Our events invite every single member of the population to upskill, have fun and dive into the burning digital topics of today.
Make sure to check out our online programme where you can access events at the time that suits you best!
Together we explore big-picture questions like: How can we create an inclusive digital future? How can SMEs protect themselves against cyberattacks?
The role of AI in our lives, future of mobility..eSustainability to lifelong learning and more…
🗓 Event schedule:
🎬 7 weeks
🛣 7 regions
📢 19 hubs
🎟 200+ events
🗣 300+ speakers
📲 Registration: Get your All Access Pass (for free) now, and block the time in your calendar.
🏆 Spread the word: Do you know someone who could benefit by participating?
Invite him/her to join the event or share the event in your feed #DigitalDays
🔗Connect with the organiser: find out about what is happening in your city or region.
The event is presented to you by digitalswitzerland and 70+ proud partners.
Don't forget to get your All Access Pass (free) now! Limited spots available.