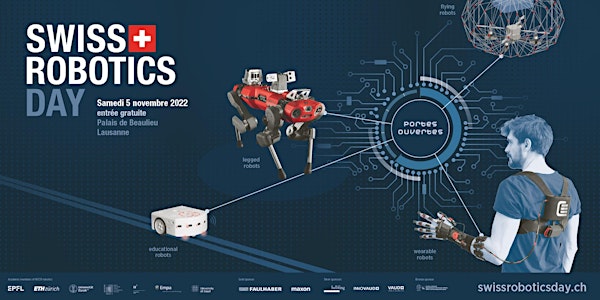 Swiss Robotics Days 2022
Venez découvrir la robotique suisse!
When and where
Location
Palais de Beaulieu 10 Avenue Bergières 1004 Lausanne Switzerland
About this event
Venez découvrir la robotique suisse!
La Journée suisse de la robotique est l'occasion pour des milliers de visiteurs de tous âges de découvrir les arcanes de la robotique au travers de démonstrations, d'événements, d'animations, de rencontres, d'ateliers et bien d'autres surprises.
5 400 m2 de démonstrations interactives, des spectacles de robotique et de drones, des activités interactives interactives, des ateliers pour les enfants vous attendent.
Rendez-nous visite au Palais des Congrès de Beaulieu à Lausanne le 5 novembre 2022.
Come and discover Swiss robotics!
The Swiss Robotics Day is the occasion for thousands of visitors of all ages to discover the secrets of robots, through demonstrations, events, animations, meetings, workshops and many other surprises.
5,400 m2 of interactive demonstrations, robotic and drone shows, hands-on interactive activities, workshops for children are awaiting you.
Visit us at the Beaulieu Convention Center in Lausanne on November 5, 2022.
Entdecken Sie die Schweizer Robotik!
Der Schweizer Robotik-Tag bietet Tausenden von Besuchern aller Altersgruppen die Gelegenheit, die Geheimnisse der Robotik anhand von Vorführungen, Veranstaltungen, Animationen, Treffen, Workshops und vielen anderen Überraschungen zu entdecken.
Auf 5'400 m2 erwarten Sie interaktive Vorführungen, Robotik- und Drohnen-Shows, interaktive Aktivitäten und Workshops für Kinder.
Besuchen Sie uns am 5. November 2022 im Kongresszentrum Beaulieu in Lausanne.