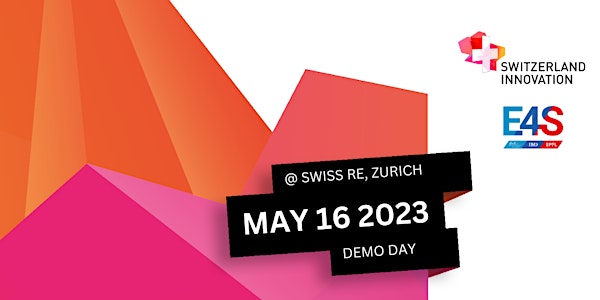 Switzerland Innovation Tech4Impact Demo Day 2023
Join us for the 3rd Switzerland Innovation Tech4Impact Demo Day
Date and time
Tuesday, May 16 · 3:30 - 6:30pm CEST
Location
Swiss Re Next Auditorium, Zurich Mythenquai 50 8002 Zürich Switzerland
About this event
Thanks to its unique expertise and technological competences, Switzerland has an opportunity to foster innovative entrepreneurial solutions with a sustainable impact in a comprehensive sense, i. e., in economic, environment, and societal terms.
The Switzerland Innovation Tech4Impact initiative supports projects that address society's most pressing issues, with a focus on the United Nations' 2030 Agenda for Sustainable Development. In its third year, six teams working on various sustainable development goals were awarded a one-year grant of CHF 85,000 each to further develop their ideas at one of the six Switzerland Innovation Parks. (Find out more here).
At the Demo Day, the six awarded teams will take the stage to give you a first-hand and exclusive presentation on their projects and the progress achieved.
You are kindly invited to join us for this event.
Program overview:
15:30 - Startup exhibition
16:00 - Opening by Raymond Cron, Director of Switzerland Innovation
16:10 - Keynote by Dominique Megret, Head of Swisscom Ventures, author of Deep Tech Nation
16:20 - Presentations by Gaia Tech, Aseptuva and TOSA Swisstech
16:35 - Panel discussion with Rudolf Minsch, Head Economist at Economiesuisse, Jutta Bopp, Head Group Sustainability Reporting at Swiss Re, and Ramzi Bouzerda, CEO of Droople (scale-up). This panel is moderated by Julia Bory, Head of Innovation at Enterprise for Society (E4S)
17:00 - Presentations by Openversum, Graphene-Based Gas Seperation, and Openversum
17:15 - Closing by Sophie Cerny, Switzerland Innovation CEO
17:20 - Aperitif & Startup Exhibition
18:30 - End of the event
Language: English
About our speakers and organistions
Raymond Cron is the CEO of Switzerland Innovation since 2015. Prior to this assignment, Raymond held top management positions in the Swiss Construction and Real Estate Industry. From 2004 until 2008 he served as Director General of the Swiss Civil Aviation Authority (FOCA).
Dominique Megret is Head of Swisscom Ventures, which he started in 2007. He joined Swisscom in 2002 as head of the Group Strategy unit. Previously, Dominique Mégret was an entrepreneur in the United Kingdom, a strategy consultant in the European telecom industry and country manager for an IT company in Germany. He is the author of the book Deeptech Nation published on September 3rd 2021 by Éditions Slatkine.
Prof. Dr. Rudolf Minsch is Chief Economist of economiesuisse, the top business organization in Switzerland. He is Deputy Chairman of the Executive Board and leads the department of economic policy and education. Rudolf Minsch is president of the Energy Agency of the Swiss Private Sector (EnAW), Member of the Competition Commission (COMCO) and president of the Foundation for International Business Administration Accreditation (FIBAA).
Ramzi Bouzerda is the CEO of Droople, a promising Swiss cleantech accelerating the adoption of sustainable practices, promoting the integration of water conservation systems, and educating the value of this essential resource.
Jutta Bopp is currently the Head Group Sustainability Reporting at Swiss Re, where she focuses on reporting on finance, risk management, and sustainability. Jutta has over 22 years of experience at Swiss Re, where she served as the Divisional Operations Officer Group Finance and the Investor Relations Senior Manager, among other roles.
Julia Bory is the Head of Innovation at the Enterprise for Society Center (E4S), which is a collaborative effort between the University of Lausanne, EPFL, and IMD Business School. Her role involves linking science, business, and technology to facilitate the advancement of sustainable innovation within Switzerland.
Sophie Cerny is the Deputy CEO at Switzerland Innovation. Previous positions were, inter alia, as Switzerland Innovation Commissioner at the Swiss federal agency for trade and investment promotion in the United States. Furthermore, she is a former tech entrepreneur and an advocate for diversity, inclusion, and equality in entrepreneurship and science.
The initiative is led by Switzerland Innovation in collaboration with the Enterprise for Society Center. The following companies support the initiative as innovation partners: ABB, Credit Suisse, Die Mobiliar, Economiesuisse, Interpharma, Schindler, Swiss Re Foundation, Swisscom, UBS, Zurich.