Experience your orgasmic life-force energy move through your body, re-energize you and activate your Chakras for your deepest healing.
About this event
We recommend you participate in the "Kundalini + Tantra Workshop" first before joining this one. (Next one: 8th January 2022)
Kundalini, our life-force energy, creative energy and our sexual energy is here to transform us, energize us, give us insights for our personal + business life.
"Orgasmic" Breathwork literally means letting Kundalini, our most natural form of energy, move through our body and release any blocks & pain that we might hold in our body.
May it be heart break, feeling insecure, not knowing what your life purpose is etc. This Breathwork technique will remind you again that pleasure is innocent and all around you. You don't need anything else, except for your breath + body.
What to expect:
A journey into your senses, your body, your pleasure without even touching yourself or anyone else. You'll experience the power of your own innate energy + body. As well as what it feels when ecstatic bliss runs through your whole being 🌊
We'll be activating our Kundalini energy, do foundational Tantric exercises and then move into the "Orgasmic" Breathwork.
This will help us unblock our Chakras and any other areas we feel held back.
Enter a world of limitless ecstacy, bliss & joy and allow yourself to be swept away by magic ✨
*This Workshops is held in English*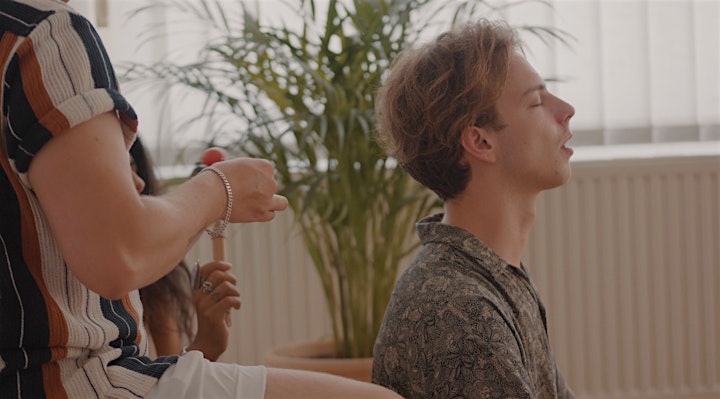 Kundalini is your life-force energy that allows you to go through life energized, fully of joy and happiness and see the sacredness in every moment.
Benefits of working with your Kundalini energy:
Strengthens your inner Willpower
Increased Brain Power
Creativity bursts through your whole Body
Opens up your Heart and Body
Increased Acceptance for Life and what it has to offer
Compassionate Communication comes easier
Wise choices are easy to make with your increased Intuition
Increased Sexual Energy
Deep Healing of conscious + unconscious Fears, Traumas and blocked Pain in your Body
Strengthens your Nervous System thus reducing your response to stress
Increased Health + Vitality
so much more...
Tantra is an ancient Indian philosophy based on the concept that life and our bodies are sacred. Futhermore Tantra believes that being present in the moment is the deepest intimacy that you can experience with yourself and others. Through sacred practices we deeply connect to ourselves and others. We open our hearts to the magical moments in everyday life and get to experience how innocent love is at the core of everything we do.
An ancient tradition that is getting the attention from the modern world more and more again as we humans crave deep connection, attention, being loved, feeling seen and heard!
We all want to feel loved, seen and heard and it starts with us loving, seeing and hearing ourselves first.
If you have any questions, please email me via: nikita@anandwayoflife.com
Organizer of Tantric + Orgasmic Breathwork - Beginner / Intermediate Tantra Workshop
Hi, I'm Nikita Anand. I'm a Spiritual & Sexual Embodiment Coach and help my clients heal their fears, traumas and uncsoncious blocks through meditation, breathwork and somatic exercises. I infuse Spirituality and modern Science, Tantra, Kundalini and Ancient Healing Methods to bring the deepst transformations for my clients.
I'm deeply grateful and honored to be doing this work in the world and can't wait to welcome you in one of my workshops ❤️