At our Teal Safari - Series you learn more about new ways of working and we will introduce you to game changers to get first-hands insights.
About this event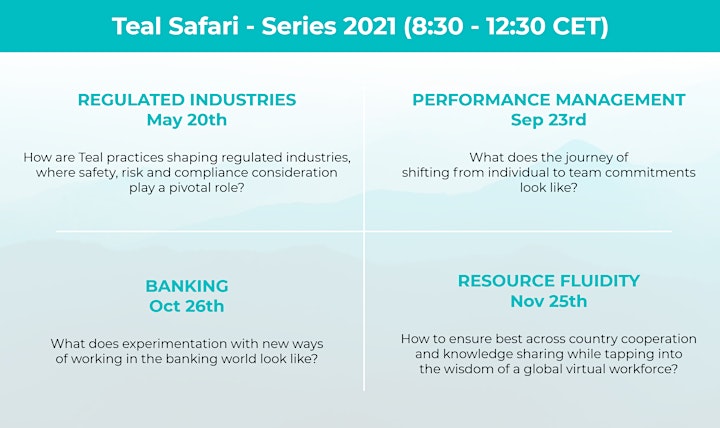 For the last couple of decades, triggers of change have been accumulating and becoming significant enough to feel the need to respond to them. The world around us has become increasingly Volatile, Uncertain, Complex, and Ambiguous, making it difficult for decision-makers to find their way in this VUCA world.
On top of that, individuals are reflecting upon the lack of meaning of their own work, the lack of humanity in teams, and the limitations of mastery on the job, leading to disengagement, burnout, and an overall decrease of wellbeing and performance. What a jungle!
If these issues sound familiar to you, and you feel like you need an inspirational micro-vacation from your day-to-day life, then join us on our Teal Safari - Series: Several companies have already taken measures to challenge the current status quo and move their businesses and people to the next level. They are not only changing the rules of the game and became more agile, but they are also doing business in a whole new way. Side effects of their new ways of working include faster and better decision making, less bureaucracy, more meaningful work, less time to respond to external changes, and higher satisfaction and performance. Business is evolving!
At our Teal Safari - Series we will introduce you to game changers in four half-day sessions dedicated to specific themes, occuring respectively in May, September, October and November. Our speakers will share their transformation journey and you will have the opportunity to chat with them, get first-hand insights and thus learn more about their businesses, experiences and challenges on their way through the jungle.
Prepare yourself for thought-provoking discussions and exciting exchanges on Teal Practices.
The LIVEsciences Adventurers are looking forward to guiding you through the Safari!