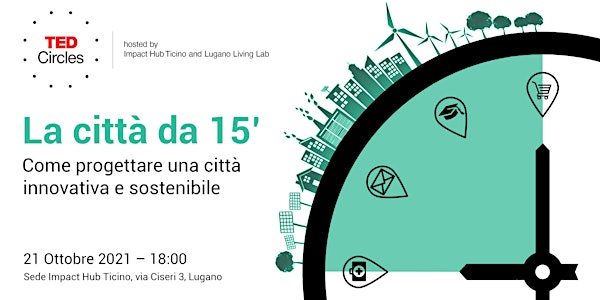 TED Circle I La città dei 15 minuti
Impact Hub Ticino lancia i TED Circle in occasione delle Giornate Digitali Svizzere 2021!
When and where
Location
Impact Hub Ticino 3 Via Antonio Ciseri 6900 Lugano Switzerland
About this event
Impact Hub Ticino lancia i TED Circle in occasione delle Giornate Digitali Svizzere 2021.
Il primo TED Circle "Here and Now" è organizzato da Impact Hub Ticino in collaborazione con Lugano Living Lab e affronta il tema "La città da 15-minuti: come progettare una città innovativa e sostenibile" partendo dal video TED Talk "The 15-minutes city" di Carlos Moreno, Scientific director, Panthéon Sorbonne University-IAE Paris.
Dopo la proiezione del video TED, tutti i partecipanti sono invitati a contribuire attivamente alla conversazione esprimendo idee e visioni in modo collaborativo con l'obiettivo di apportare nuova consapevolezza e punti di vista attorno alla tematica. La conversazione sarà facilitata ed alimentata da altri "conversation starters" in loco esperti sul tema. Parteciperanno:
Martina Conti, Architetto e Landscape Design Director, LAND Suisse
Elide Garbani-Nerini, Ricercatrice assistente, Istituto di tecnologie digitali per la comunicazione, USI
Marco Hubeli, Direttore Divisione Pianificazione, ambiente e mobilità, Città di Lugano
Tiziano Luccarelli, co-fondatore di Impact Hub Ticino e Circular Economy Lead, Kickstart
Luca Mascaro, Founder e Head of Design, Sketchin
Jan Trautmann, Project manager e specialista di marketing digitale, Lugano Living Lab-Città di Lugano
Cosa sono i TED Circle?
I TED Circles sono eventi ricorrenti ed informali in cui i partecipanti guardano insieme un video TED sui temi più attuali e urgenti per la comunità e ne discutono apertamente cercando soluzioni e confrontandosi in uno sforzo di intelligenza collettiva. Ogni TED Circle è unico e tutti sono virtualmente connessi attraverso la piattaforma TED Circles - rendendo possibile che le conversazioni locali raggiungano una scala globale.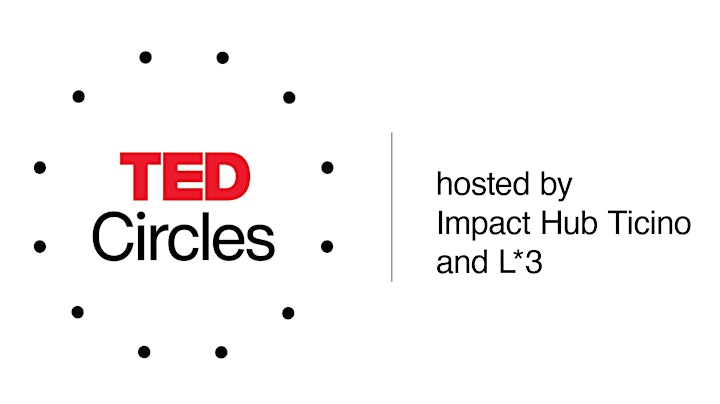 Registrazione
I posti sono limitati. L'evento è accessibile con certificato Covid valido.
Per maggiori informazioni : ticino@impacthub.net