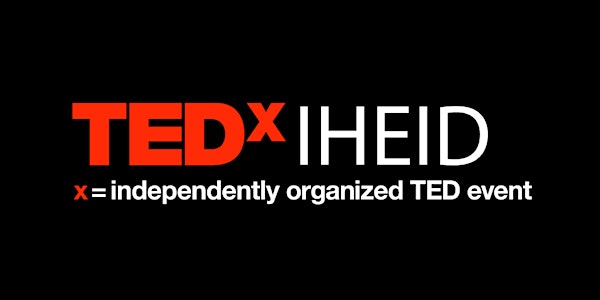 TEDxIHEID: "The Dawn of a New Era"
Location
Maison de la Paix
2 Chemin Eugène-Rigot
1202 Genève
Switzerland
The Geneva Graduate Institute is pleased to announce its inaugural TEDxIHEID conference, with the theme "The Dawn of A New Era".
About this event

TEDxIHEID: Our Idea Worth Sharing
We have all heard the words "unprecedented times" relating to the last two years: unprecedented health situation, unprecedented protests on issues of diversity, unprecedented shifts in geopolitical security environments, unprecedented outage of main social media platforms… All we seem to be living in is rather unprecedented and extremely distressing.
We would like to shed a positive and empowering light on the ways in which we can confront these times. We are therefore holding TEDxIHEID, as our team believes that our theme, "The Dawn of the New Era", encapsulates the spirit of our time, from the personal to the societal, together with reflecting the spirit of the Institute in our current historical moment.
We will have:
A Student Corner for students to deliver their own TEDx talks
A Networking Event after the conference to talks with speakers and other attendees
The conference is open to all audiences (students, IHEID alumni and staff, and external professionals).
About IHEID, the Graduate Institute of International and Development Studies
The Graduate Institute of International and Development Studies (IHEID) is an institution of research and higher education dedicated to the study of world affairs, with a particular emphasis on the cross-cutting fields of international relations and development issues.
Through core activities, IHEID aims to promote international cooperation and make a contribution to the progress of developing societies. More broadly, IHEID endeavours to develop creative thinking on the major challenges of our time, foster global responsibility and advance respect for diversity.
IHEID is a cosmopolitan community located in the heart of Geneva, an international city and a centre of global governance. By intensely engaging with international organisations, NGO's, governments and multinational companies, IHEID participates in global discussions and prepare future policy-makers to lead tomorrow's world.
About TEDx, x = independently organized event
In the spirit of ideas worth spreading, TEDx is a program of local, self-organized events that bring people together to share a TED-like experience. At a TEDx event, TED Talks video and live speakers combine to spark deep discussion and connection. These local, self-organized events are branded TEDx, where x = independently organized TED event. The TED Conference provides general guidance for the TEDx program, but individual TEDx events are self-organized. (Subject to certain rules and regulations.)
About TED
TED is a nonprofit organization devoted to Ideas Worth Spreading. Started as a four-day conference in California 30 years ago, TED has grown to support its mission with multiple initiatives. The two annual TED Conferences invite the world's leading thinkers and doers to speak for 18 minutes or less. Many of these talks are then made available, free, at TED.com. TED speakers have included Bill Gates, Jane Goodall, Elizabeth Gilbert, Sir Richard Branson, Nandan Nilekani, Philippe Starck, Ngozi Okonjo-Iweala, Sal Khan and Daniel Kahneman.
The annual TED Conference takes place each spring in Vancouver, British Columbia. TED's media initiatives include TED.com, where new TED Talks are posted daily; TED Translators, which provides subtitles and interactive transcripts as well as translations from volunteers worldwide; the educational initiative TED-Ed. TED has established The Audacious Project that takes a collaborative approach to funding ideas with the potential to create change at thrilling scale; TEDx, which supports individuals or groups in hosting local, self- organized TED-style events around the world, and the TED Fellows program, helping world-changing innovators from around the globe to amplify the impact of their remarkable projects and activities. Follow TED on Twitter or on Facebook.