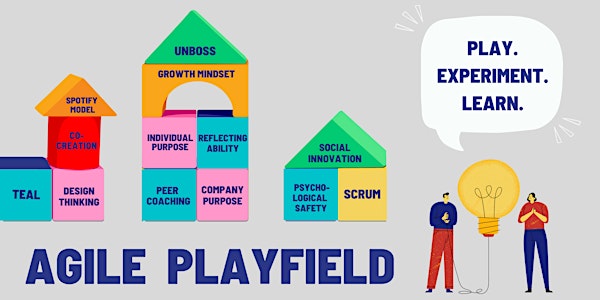 The Agile Playing Field Series - Working & Thriving in an Agile Environment
More freedom as an Agile Leader? - Learn how to take more effective actions and better decisions through sharpening your agile mind-set
Refund Policy
Contact the organiser to request a refund.
About this event
Dealing with complexity, uncertainty, and ambiguity is essential and indispensable for a leader of an agile working team these days.
You seek some guidance and orientation in the agile jungle? You have so many questions about agile and agility? You need to figure out what works and what doesn't? You would like to design or develop a self-organized, people-centric environment that enables and encourages individuals to be more actively involved?
Then the workshop series Agile Playing Field may be perfect for you.
What you will learn
The Agile Playing Field series offers an open space for reflection, experimentation, exploration, and exchange among like-minded people. You will have the opportunity to address burning questions you may have about an agile mind-set and its potential impact upon your work environment.
You are moved by questions such as:
How do I juggle the urge to deliver and the need to develop as an individual?
How does agile collaboration work in times of social or rather digital distancing?
How can I develop the necessary confidence and trust in myself and other people?
How can I create and maintain a safe space to thrive with a competitive team?
How do I deal with unclear roles and responsibilities not explicitly assigned?
The objective is to playfully learn more about agile on the spot and in the current context by trying new ways of flexibly dealing with complexity, uncertainty, and ambiguity. By the end of this series, you are ready to take more effective actions and to make better decisions as a leader of a team.
What you can expect
The Agile Playing Field's approach is focused upon an agile mind-set and being as well as based upon co-creation and creativity, sense and response offering the following methodologies:
Keynote by an experienced agile leader followed by a Q&A session. Experts from various industries and companies (e.g. Siemens Energy, Buurtzorg) will participate.
Interactive and playful experimentation with hot topics raised by the participants. Team coaching and exercises with life simulations will enable participants to find solutions and to apply them to their own work situation.
The Agile Playing Field series encompasses
* Menu S
first 3 dates of the group sessions of 4 hours each at an interval of 4 weeks (maximum of 12 participants)
2 individual coaching sessions of 1 hour each between group sessions
expert input and advice from agile leaders as well as a buddy program.
* Menu L
6 group sessions of 4 hours each at an interval of 4 weeks (maximum of 12 participants)
5 individual coaching sessions of 1 hour each between group sessions
expert input and advice from agile leaders as well as a buddy program.
What your benefits are
opportunity to reflect upon your situation as part of a self-organized work environment
plenty of room to discuss your own case studies and to get input and ideas from people you may otherwise have never met
opportunity to define your personal goals and to obtain feedback upon the results
chance to learn and grow in a group of peers from different industries
inspiration from senior agile leaders facilitated by experienced moderators
Who will benefit
managers working in conventional or self-organized teams seeking to increase each individual's sense of self-efficacy and self-responsibility
practitioners experienced with spearheading agile transformations in organizations.
Workshop Format
Virtual meetings.
Would a change in the law on Covid-19 allow onsite meetings, we will change format to a hybrid solution (virtual and onsite location in Basel area).
Workshop Dates
22 April 2021
20 May 2021
17 June 2021
8 July 2021
19 August 2021
23 September 2021
13:00 - 17:00 CET
The Reflection-Experiment-Room is limited to a maximum of 12 participants to ensure binding learning in an engaged group of professionals.
Facilitators
Evelyn Maass, Co-Creator and Coach, Spirit of Discovery
Having a background in Business Administration, I am an inspiring and purpose-driven coach. My passion is to unleash the potential of people by liberating them from limiting mind-set and connecting client's heart and mind. I bring sound experience in Consulting, Business Development and Coaching of individuals and teams in Change. I facilitate clients to break-through barriers, help to develop bold goals and ignite passion in their life enabling them to reach the success they desire.
Steffen Keller, Co-Founder and Catalyst, LIVEsciences
Coming from a scientific background in neurosciences, I am a very curious person. Accepting to not know everything allows myself to ask the right questions and to challenge the obvious and the current beliefs. I am co-founder of LIVEsciences and had the pleasure to get to know and work with various different companies, teams, organizational structures and cultures. I support individuals, teams and companies to create a more engaging environment that allows them to grow and learn.