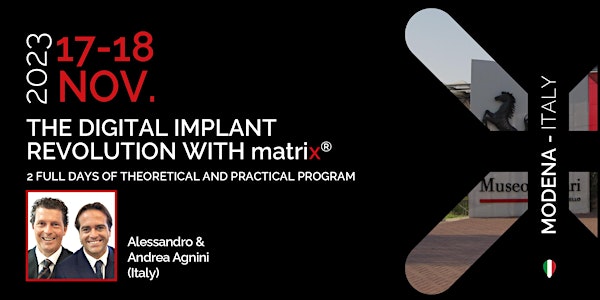 The Digital Implant Revolution with matrix®| Nov 17-18 |Agnini Brothers
The Digital Implant Revolution with matrix® - 2 days of theoretical and practical program
Date and time
Fri, 17 Nov 2023 09:00 - Sat, 18 Nov 2023 16:30 CET
Location
Studio Dentistico Agnini - Sassuolo 182 Via Giuseppe Mazzini #b 41049 Sassuolo Italy
About this event
1 day 7 hours

Mobile eTicket
COURSE CONTENT
Learn how going digital can transform your dental practice and enhance the patient experience. This comprehensive course program will show you how to seamlessly integrate digital technology into every step of your clinical workflow and implant practice, from diagnosis, CBCT-scan planning, digital impressions, 3D printing to treatment sequencing.
The technological disruption in dentistry is transforming the role of technicians and placing labs in the center of this revolution. There is no digital dentist, there are digital teams. Modern Dentistry is a Team Sport and the players are digitally connected. This lecture will focus on pragmatic and realistic systems to improve the, so important, communication between the dentist and the technician to create more precise, predictable and natural outcomes.
SPEAKERS
Alessandro Agnini
Andrea Mastrorosa Agnini
LEARNING POINTS
This intensive 2-day training program will provide a practical insight into the most currect digital techniques for the digital planning, placement and restoration of dental implants. A deep dive into real application of digital dentistry as well as innovative treatment planning will be shown.
TRADITIONS AND INNOVATIONS
Why become digital?
What is CAD/CAM technologies?
Interdisciplinary approach in digital dentistry
What are restrictions CAD/CAM technologies?
REAL APPLICATION OF DIGITAL DENTISTRY
Fundamental differences of traditional and digital impression
Scanning strategies and protocols
What are nuances of virtual definition of inter-maxillary ratios with use of the intra oral scanner?
Application of the intra oral scanner: technique of digital diagnostics full-fledged information and transfer to laboratory
Criteria of successful work and of laboratory stages at an initial stage with the minimum time
Full-arch cases under a digital perspective
AN INNOVATIVE TREATMENT PLAN
Hands-on on matrix® Implant System (2 hours)
How to send the scanning file to the Dental Technician?
How to receive, analyze and prepare a STL file before starting the CAD design
How to import the STL file in the CAD Software and to create a strategic sequence of work
Prosthetic Digital Dentistry
CAD Modelling and preparing the STL file for the CAM procedure
Step by step milling phase on a 5 axis milling machine
COURSE PROGRAM
November 17th
Case Presentation and Live
Surgery utilizing a matrix® Implant
Immediate Digital Impression
Streaming with the Lab for the
Cad Design and PMMA Production
Q&A
November 18th
matrix® Bone-Level vs.
Multi-Level Implant
Scanning Strategies: Scan Body
Rationale and Scan Patterns from
Single Implants to Full Arches
Scan Plan Print
Q&A
SOCIAL PROGRAM
Visit at the Ferrari Museum with the Guide, as well as the Factory and the Fiorano Track and F1 Simulators Race between the attendees
The program may slightly change
Download the flyer for more information here
Course Language: English
Terms and Conditions of TRI® apply.
About the organiser
TRI® Dental Implants is a fast growing global provider for dental implant solutions. Designed and manufactured in Switzerland, TRI® Dental Implants provides high-quality, innovative and easy-to-use implant solutions for the benefit of patients worldwide.