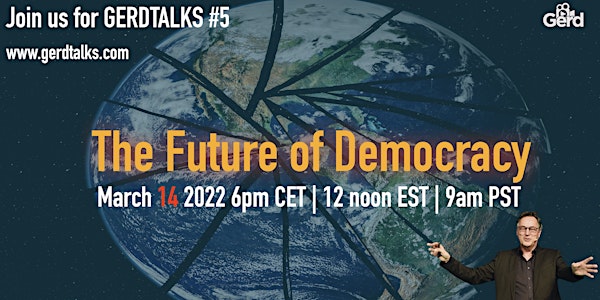 The Future of Democracy: GerdTalks#5 Live-Stream with Futurist GerdLeonhard
These days, democracy seems increasingly under fire -declining globally- and stability is threatened by autocrats. What's next in Democracy?
About this event
The Ukraine/Russia war has given me painful reason to think more about the larger context of my main 2022 topic, The Good Future. While some autocrats seem hell-bent on destroying stability and ending the long-lasting peace in Europe, democracy is apparently in decline for the last decade, globally (read the Freedom House report).
Where is this going? How can we rekindle democracy and fix what is lagging? What's wrong with how we design and implement democracy, right now? And what's the role of technology (like social media) in all this?
In my view, a Good Future is almost synonymous with Democracy - so this is a very big topic for me. I am preparing furiously for this event and would love your feedback / input until we meet for show (just go here to send your stuff; or ping me via twitter using the #gerdtalks tag).
I will first do a 15 minute presentation on the future of democracy, and then I will take questions and comments from the audience using Youtube and LinkedIn comments (be sure to be logged in:)
URLs will be shared the day before the event or as soon as I have them. We will announce a special guest for this show, as well.
Go to www.gerdtalks.com for more details on the series in general.