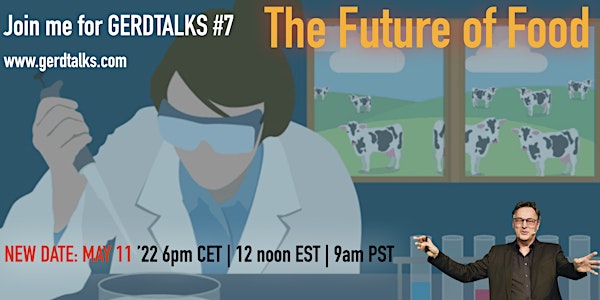 The Future of Food. Meat from the lab? Futurist Gerd Leonhard Talks#7
The $9 Trillion food industry is about to be disrupted by technology and global lifestyle / paradigm shifts. Gerd will share his foresights!
About this event
Vegan meat substitutes? Meat made in the lab aka cultured meat? Vertical farming? Organic vegetables delivered from robot-run high-rises? 3D-printed foods (remember Star-Treks's replicator dishing up the panfried cat-fish)?
Is the future going to be vegetarian (or shall we say, culti-tarian?) How will agriculture need to change to feed an estimated 9.5 Billion people by 2030? How can and will the food industry become sustainable and truly circular? How will our paradigms shift in regards to food and health? If green is the new digital, will vegan be the new normal?
UPDATE: April 29: We will use a new format for this talk: no more fancy green screens and my usual immersive presentations (sorry) but just a short intro using only few nice images (5min max), staged in my living room, followed by live discussions using YT and LI comments but also a Zoom call-in option. Plus, I will shortly announce some special guests, as well.
If you want to join the live event with audio/video contributions, please join us on Zoom HERE during the event. If you want to speak please raise your hand we will bring you into the live show. All contributions are limited to 60 seconds.
This is a free event. LI and YT URLs will be added a few days before the show.
Find out more:
GerdTalks Microsite | Futurist Gerd Site | Previous GerdTalks on Youtube
The Good Future Film | The Good Future EXPLAINED | What you need to know about the future