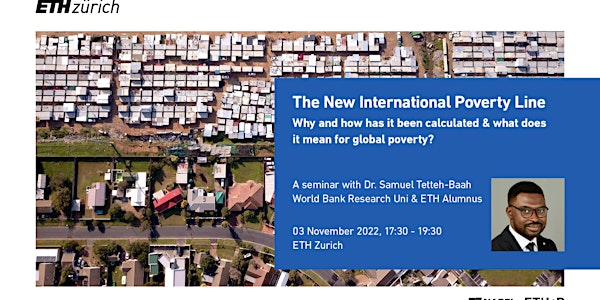 The new international poverty line
A talk by Dr. Tetteh-Baah on the international poverty line, why and how it has been calculated & what it means for global poverty.
When and where
Location
ETH Zurich (Main Building)- HG E 1.1 Rämistrasse 101 8092 Zurich Switzerland
About this event
The international poverty line is the principal standard used to monitor the progress being made to eradicate poverty everywhere in all its forms. It helps measure the number of people living in extreme poverty and helps compare poverty levels between countries. The international poverty line, set at $1.90 per day in 2015, has been updated to $2.15 a day in September 2022. In this talk, Dr Samuel Kofi Tetteh-Baah, economist at the World Bank, will focus on how the international poverty line is derived, why it needed an update, and what the new line implies for global poverty estimates. In addition, Dr. Samuel Kofi Tetteh-Bah will discuss the impact of Covid-19 on global poverty rates.
Samuel Kofi Tetteh-Baah is an economist in the Development Economics Data Group, World Bank, Washington, DC. He completed his PhD at ETH Zürich in Development Economics in 2019. He also holds an MA in Development Economics from the University of Göttingen, Germany and a BA in Economics from the University of Ghana. His research focuses on the measurement of poverty and inequality.
The seminar is scheduled for the first hour, with an Apéro afterwards during the last hour.