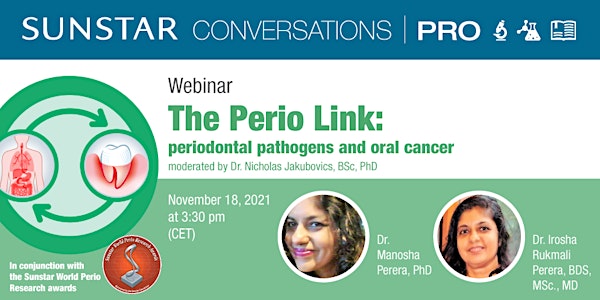 The Perio Link : periodontal pathogens and oral cancer
Welcome to the 9th Sunstar Conversations Pro webinar, dedicated to the periodontal pathogens and oral cancer
About this event
After the monthly conversations on the theme of oral health challenges through different life stages from the pregnant woman to the aging patient, a series of 2 special webinars will take place in November to tackle the interrelationships between oral health and general health, in conjunction with the Sunstar World Perio Research award.
Periodontal diseases have an impact on general health and vice-versa. A poor oral health is associated with diabetes, heart disease, pulmonary disease and more.
The Sunstar World Perio Research Award, established since 2003, aims to promote further research in the oral-systemic link to raise awareness around the world. Three winning papers are selected by a committee, formed by the representatives of leading international dental journals (Journal of Periodontology, Journal of Clinical Periodontology, Journal of Periodontal Research, Journal of Dental Research). The 1st session celebrated the 1st two 2021 winning papers about periodontal and cardiovascular diseases.
Join our 2nd session on November 18, 3:30pm CET to celebrate the 3rd winning paper on periodontal pathogens and oral cancer with Dr Manosha Perera and Dr Irosha Rukmali Perera, moderated by Dr Nicholas Jakubovics, editor-in-chief of the Journal of Dental Research.
This is an online event. After the registration, the link to the live stream will appear on the right side.
On the day of the event, we advise you to join the stream on our YouTube channel via the button "watch on YouTube" in the left down corner of the video, to be able to interact with speakers.
Who are the speakers?
Dr Manosha Perera, PhD
Dr. Manosha Perera is a Free Lance Research Scholar and Alumni of School of Dentistry & Oral Health, Gold Coast Campus, Griffith University, Queensland, Australia. Currently she is involved in research work based on the influence of periodontal pathogens in oral carcinogenesis. She has knowhow in all sub-specialties of microbiology to address matters as a 'new thinker in multidisciplinary approach'. She obtained her Doctor of Philosophy in Molecular Microbiology in 2017 by winning Griffith University International Postgraduate Research Scholarship and Griffith University Postgraduate Research Scholarship in 2012. She has more than 21 years of experience in the fields of Diagnostic Microbiology/Diagnostic Mycology/Diagnostic Molecular Biology at the Medical Research Institute of Sri Lanka. Her numerous publications in high impact international peer-reviewed journals provide a H-index of 5 with 263 citations. Dr. Perera's research interests vary from Public Health to molecular perspectives of Oral Microbiome. She has served as a Senior Lecturer on contract basis and a visiting lecturer to the Open University of Sri Lanka and Sir John Kothalawala Defense University Sri Lanka respectively. She also worked as a Consultant in a crab exporting company in Sri Lanka to establish a laboratory to assess the microbial quality of canned crabs.
Dr Irosha Rukmali Perera, BDS, MSc., MD
Dr Irosha Perera is a Dental Public Health Specialist and serves as the Head of the Preventive Oral Health Unit, National Dental Hospital (Teaching) Sri Lanka, the primer, multispecialty, tertiary care public dental hospital in Sri Lanka. She obtained her Doctor of Medicine in Community Dentistry postgraduate degree with a merit award in 2006. She has a strong research background in Dental Public Health and Public Health with numerous publications in high impact international peer-reviewed journals possessing a H-index of 16 and 1008 citations to this date. She won President's awards for scientific publications in 2007, 2008 and 2016. Her research interest spans over a wide range of fields including social inequality in health and oral health, quality of life, oral health related quality of life, psycho-oncological perspective of oral cancer, oral microbiome and oral cancer, health and oral health promotion and oral & maxillofacial injury surveillance systems.
Do not hesitate to contact us for any questions or remarks!
Sunstar Medical Affairs Team