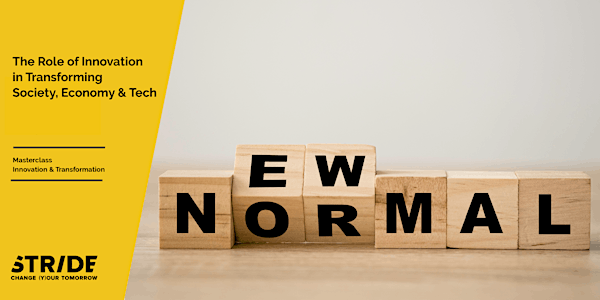 The Role of Innovation in Transforming Society, Economy & Technology
The Role of Innovation in Transforming Society, Economy & Tech // STRIDE Masterclass Innovation & Transformation
Refund Policy
Contact the organizer to request a refund.
About this event
The Role of Innovation in Transforming Society, Economy & Tech
Innovation needs an update. We see at the same time too much and not enough innovation. For many years, the gulf has been widening between cumulative progress in science and technology and modest, if any, progress in tackling complex societal challenges.
How might innovation and respective design practices support the multi-dimensional transformation of our societies? Influential thinkers (e.g. Mariana Mazzucato) and policy makers urge innovators and funders to move beyond point innovation to a form of systems innovation. It means to come up with new ideas that link products, services or other interventions to related norms, laws, competences, knowledge and skills. For the peaceful transition towards a democratic, fair and post-fossil society, the interplay of technological, social, financial, legal & institutional innovations will be key. Whether discussed as social innovation, socio-technical innovation or systems innovation, all with the goal of societal transformation, what is at stake is a fundamentally different approach to enabling, funding and doing innovation.
The promise and the challenge of innovation in the context of societal transformation is twofold: it opens up a conversation about systemic complexity as well as purpose & values. Preparing grounds for transformation to happen invites us to ask what's really valuable, what matters, and how imagination can be harnessed to make lives better. At the same time, the societal challenges at hand need innovations in different contexts and across sectors, eventually transforming our habitual ways of eating, building, working, traveling, etc. We are thus in dire need not of simple technological innovation but of socio-technical innovations which purposefully extend the outlook not just unto the goal of a singular intervention but its wider effects on our (inter-) being.
For innovation to address complexity and purpose, new (mental) models and frameworks can help both funders as well as innovators. In this masterclass, we introduce a research-based innovation and design framework that integrates human-centered and systems-oriented elements. An ongoing work-in-progress, the Social Practice Change Playbook is essentially a collection of specific tools and canvases. It allows us to work with the systemic complexity and value-questions of societal challenges in novel ways. The signature move is to go beyond a focus on behaviour change and address "the system" in its social practices: the embodied, habitual routines of how we live, work, eat & drink, travel etc. within their material and normative contexts.
How can (y)our innovation efforts support the transformation of social habits for a sustainable, equitable and joyful future?
This Masterclass will bring together experienced innovation & transformation practitioners, funders and facilitators to learn together about the needs and potentials for innovation with the aim of fostering societal transformation. A concrete case study on insect food and the Social Practice Change Playbook will serve as didactic material and prompt for our exchange.
After the Masterclass, you will be able to...
... Understand the idea and the key elements of practice-based innovation;
... Make strategic decisions based on a clear understanding of the differences between point innovation and systems innovation, social innovation and transformative innovation and respective design approaches;
...Apply principles of social practice change for building a portfolio of strategic projects (challenge owner & funder perspective);
...(Re)Design innovation projects - from services, products to interventions and campaigns - for more systemic impact (practitioner perspective).
Faculty
Björn Müller, PhD, brings years of research, consulting and teaching to the question of how innnovation efforts can support societal transformation. He seeks to translate new transdisciplinary insights into practical frames that allow for working with the complexity of societal transformation in fresh ways. Björn co-founded Stride - the unSchool and is vice-president of Science&Cité's board of trustees.
Dr. Anaïs Sägesser is dedicated to societal transformation through personal transformation, community engagement and civic action. Whether as co-founder of Stride - the unSchool, when teaching at ETH Zurich or as a co-founder and board member of scaling4good, Anaïs bases innovation work in the explicit engagement with questions of values and beliefs.
Peter Eisenegger has an entrepreneurial background in digital and service design. As a strong believer in sustainable transformation by design, he supports organizations to identify opportunities and innovation potential in order to develop sustainable solutions.
Paolo Marioni, a digital strategist and designer on a mission to develop and provide practical frameworks and tools for innovation in the service of transformation.
Any questions? Feel free to contact us.
By registering for the event or purchasing a ticket I agree to STRIDE's Terms & Conditions.