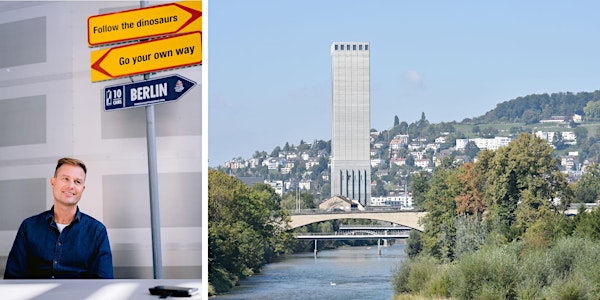 Three decades of obstruction. Why don't we act on climate change?
Three decades of obstruction. Why don't we act on climate change and what can we do to change this behaviour? – Assoc. Prof. Martin Hultman
When and where
Location
Kornhaus (Swissmill Tower) 296 Sihlquai 8005 Zürich Switzerland
About this event
Why don't we act when we know the challenges and effects of our fossil fueled climate change? For over 30 years, scholars from different disciplines have asked this question, and the answer varies. But what would happen if we make use of various kinds of disciplinary knowledge and instead of just compiling them, fertilise them into new combinations and pose new research questions?
In his presentation, Prof. Martin Hultman will shed light on in-depth empirical studies done at Chalmer's Centre for Studies of Climate Change, with the objective to explain why we humans neglect to take actions on climate change, and how we can break this habit of inaction.    
Assoc. Prof. Martin Hultman at Chalmers University of Technology is widely published in energy and climate issues especially notable are the articles 'The Making of an Environmental Hero: A History of Ecomodern Masculinity, Fuel Cells and Arnold Schwarzenegger' and 'A green fatwā? Climate change as a threat to the masculinity of industrial modernity' then the books Discourses of Global Climate Change, Ecological Masculinities and Men, Masculinities and Earth. Contending with the (m)Anthropocene. As part of his academic work he publish chronicles in a wide range of newspapers, give public lectures on contemporary politics and advice companies, NGO:s as well as governmental agencies. Hultman leads three research groups analyzing Gender and energy, Ecopreneurship in circular economies and Climate change denial. He has recently published the book Climate Obstruction. How Denial, Delay and Inaction Heat our Planet and is currently doing the very last editing of Earth Rights. Ecopedagogy and Rights of Nature for a Vibrant Planet.
After the presentation we will enjoy a buffet dinner and drinks.
Join us for an illuminating evening in a stunning setting at the top of the Swissmill Tower!
Agenda
18.00 – 18.30 Doors opens, registration
18.30 – 19.30 Keynote speech followed by Q&A
19.30 – 22.00 Buffet Dinner
The number of tickets is limited with a first-come, first-served basis applied. Make sure to get your tickets early!