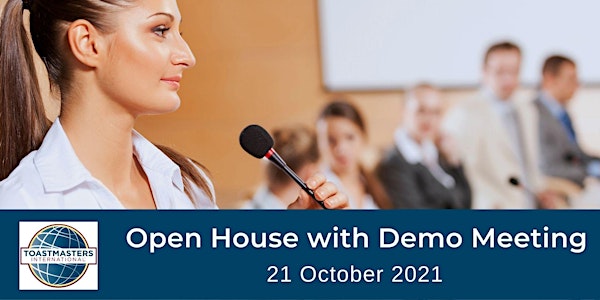 Toastmasters Open House - Innovative Speakers Allschwil
Join us for a Toastmasters Demo Meeting and experience how Toastmasters can improve your public speaking and leadership skills.
About this event
Become the speaker and leader you want to be
Experiencing a Toastmasters meeting you'll find many people who want to overcome their fear of public speaking, but more importantly a supportive group of people and community of life-minded people who enjoy having fun while developing their skills.
Many people who join a Toastmasters club want to overcome their fears of public speaking, and they find a supportive and positive environment where members have the opportunity to overcome their anxiety of public speaking and sharpen presentation skills.
Experience a Toastmasters Demo Meeting at this event
Toastmasters is the best way for anyone — whether a working professional, entrepreneur, startup founder or student — to improve his or her communication and leadership skills. Members overcome the fear of public speaking and learn skills that aid them in becoming more successful. Toastmasters creates better listeners and stronger team members and leaders who can comfortably give and receive constructive evaluations.
Join online or in person on site
This meeting will be a hybrid meeting. You can choose to join us online via Zoom or you can meet some of our Toastmasters in person at the Swiss Innovation Park which is our on site location.
Please indicate when you register which option you choose. You will receive reminder emails with the zoom link before the event.
Join us today: https://us02web.zoom.us/j/81401676905
____________________________________________________________________________________________
About Toastmasters International
Toastmasters International is a worldwide nonprofit educational organization that empowers individuals to become more effective communicators and leaders. Headquartered in Englewood, Colo., the organization's membership exceeds 358,000 in more than 16,800 clubs in 143 countries. Since 1924, Toastmasters International has helped people from diverse backgrounds become more confident speakers, communicators and leaders.
Organizer of Toastmasters Open House - Innovative Speakers Allschwil
The Toastmasters club in Allschwil is part of the non-profit educational organization Toastmasters International which has over 350,00 members worldwide.
As a Toastmasters member you have the opportunity to learn-by-doing in our meetings held twice a month. You get the perfect platform for expanding your speaking and leadership skills in a no-pressure and very supportive atmosphere.