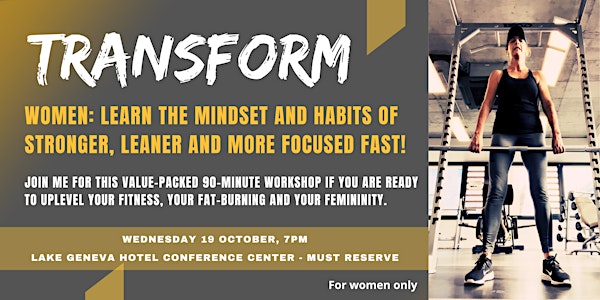 TRANSFORM
Whether you are a fitness newbie, or you are finding the discipline of it all too challenging, this mindset and habits workshop is for you.
When and where
Location
Lake Geneva Hotel Conference Centre Route de Suisse 79 1290 Versoix Switzerland
Refund Policy
Refunds up to 7 days before event
About this event
Tired of feeling tired and unfocused?
Frustrated with your lack of discipline?
Done with meagre results from your fat-loss efforts?
Then I'd love to help!
After years of "trying", I finally cracked the code on the quickest and most efficient ways to firm up and feel better fast!
I am now on a mission to help other women to make significant life changes in a short period of time, without crash dieting or using other inefficient or damaging means of losing weight.
Join me for an engaging 90-minute workshop where I will share with you:
- How I finally cracked the code on staying the course on a fat-loss program after repeatedly failing
- My Bruce Jenner Lesson for reaching your olympic gold
- The most efficient, science-backed way to firm up and drop lbs naturally with easy cardio to boot
- How you can shed weight effectively without sacrificing your favorite food
- How to deal with those super challenging sweet cravings
- How tapping into your feminine power will help you
All the above lessons will be shared in story format, because I've got quite a story to tell! I hope you'll come listen and learn.
You will leave this event with oodles of motivation, some useful fat-loss tips and with clarity about what's most important to you in your life and how you can seriously back yourself to achieve that.
PLEASE NOTE: I am not a nutritionist, nor a health coach. I am passionate about holistic healing and health and fitness. I am a living example of how to feel better naturally and how to navigate the obstacles you will face, because I have faced and continue to face all of them! I am also an experienced mindset coach running a private practice. I am passionate about helping my clients to overcome their self-imposed limitations so that they can reach new heights.
The workshop will be followed by a drink at the bar for those who want to stay back to chat afterwards.