Dieses Event ist beendet.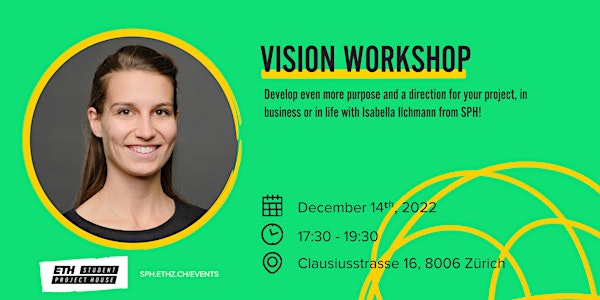 Vision Workshop
Having a vision provides a purpose and a direction for your project, whether in business or in private life! #event #ideaspace
Zeit und Ort
Veranstaltungsort
SPH - FHK Clausiusstrasse 16 8006 Zürich Switzerland
Karte und Wegbeschreibung
Zu diesem Event
Workshop topic
Imagine a world without boring workshops!
Having a vision provides you purpose and direction for your project, business or life. A vision helps to attract investors or followers as well as supports you to set clear long- and short-term goals.
In this workshop we will tackle aspects of why a vision is needed, how to formulate a resilient and consistent vision statement and how it can help you on a daily basis. Therefore, we invite you to explore visionary work and leave the workshop with a proper vision draft in your hands.
Key elements of the workshop
During this workshop we will explore the wide range of visions, create ones for your own project, experience their effect and discuss and reflect on the impact of successful visions.
About the speaker
Isabella has been a coach since October 2021 at ETH SPH. Before she worked in strategic development and as a future of work researcher, where visions play a central role. Her passion about shaping the future and how to have a positive impact always attracted her to strong visions and their benefit for everyone.