Dieses Event ist beendet.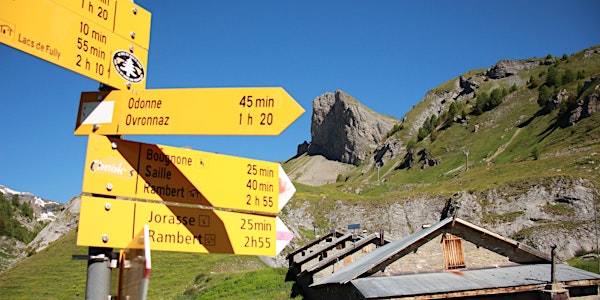 Vues du Mont Blanc (Tour des Muverans)
Join a 4-day trek in the Swiss Alps, travelling through lush alpine meadows and enjoying unforgettable views across the Alps
Zeit und Ort
Veranstaltungsort
Aigle Aigle 1860 Aigle Switzerland
Karte und Wegbeschreibung
Zu diesem Event
Day 1: Hike from Solalex to Refuge du Lac de Deborence
You will be picked up from Aigle train station at 2:00pm, which you can reach with regular trains. You'll be driven to Solalex from where you'll begin the hike. You'll trek through the alpine meadows of Pas De Cheville taking in the beautiful views of the Matterhorn and the Valaisan Alps along the way. You'll arrive at the Refuge du Lac de Deborence where you'll spend the night at a height of 1480m altitude.
Day 2: Refuge de Lac de Deborence to Cabane Rambert
After a traditional Swiss breakfast, and perhaps a swim, you'll start to traverse the south side of the Grand Muveran, stopping along the way for a well-deserved pancake. In the afternoon, you'll follow the river up to the pastures of Pro Flouri, and your accommodation in the remote Cabane Rambert and their herd of bouquetin.
Day 3: Cabane Rambert to Cabane Demecre
The day starts with a hike past the waterfalls of Passing Le Pessot, to Ovronnaz (known for fantastic local cakes!). After stopping for a break, you'll continue to trek past beautiful mountains including Tita Seri (2850m), Dent de Morcles (2,970m) and Grand Chavalard (2 898m). Throughout the day we pass bearded vulture and golden eagle nests. There will also be an option for another mountain lake swim. In the evening, you can relax and enjoy the hut wardens' specialty Spaghetti with the rest of the team.
Day 4: Cabane Demercre to Javerne
Today is your final day of hiking, trekking back towards the north side of the Grand Muveran where you'll get views of Lake Geneva. It's an early start as you make your way up to Cabane La Tourche. After lunch, it's then a pleasant hike down the mountain to Javerne and the shuttle to Aigle. From here you can take the train around Lake Geneva to the airport, or spend some time relaxing in the valley.
Included
International Mountain Leader Guide
3 nights accommodation
3 dinners
3 breakfasts