Leading innovators, trend-setters and scientists based in Switzerland gather online to answer these questions and more during our webinar:
About this event
Which problems need solving?
Which emerging technologies can help solve these problems?
How soon will current trends be replaced?
Speakers from:
University of Applied Sciences & Arts Northwestern Switzerland
Paul Scherrer Institut (PSI)
Hyundai Hydrogen Mobility AG
SecuraXis
Swisspod Technologies
Synhelion
5 SDGs
For more details about the speakers and topics covered, please scroll down below.
SECURAXIS
Securaxis is the winning incubatee of the 2018 Swiss Business Incubation Centre (BIC) of CERN Technologies. Securaxis' s solution allows for the detection, counting and categorization of vehicles, as well as determining their direction and speed as well as the flow of traffic.
The solution also helps combat traffic-related noise pollution, with applications ranging from traffic-based lighting to traffic management. It is a cost effective solution for 24/7 monitoring with low data transfer, respectful of citizens' privacy, GDPR-compliant, and with self-learning capabilities.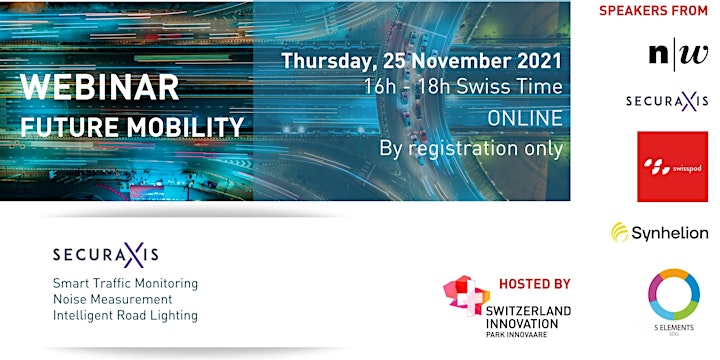 SYNHELION
Synhelion is a Swiss cleantech company that produces solar fuels to decarbonize transportation. Solar fuels can replace fossil fuels in all applications as they are compatible with conventional combustion engines.
In 2023, Synhelion will launch the world's first industrial solar fuel production plant. By 2030, they plan to ramp up production capacity to produce 700'000 tons of solar fuel, enough to cover 50 percent of Swiss jet fuel consumption.
Learn more about their history, journey and technology on Thursday 25 November 2021 during the Webinar: FutureMobility, hosted by Switzerland Innovation Park Innovaare.
Webinar Speaker: Dr. Philipp Good, CTO
Dr. Philipp Good has a PhD in Mechanical Engineering from ETH Zurich (Swiss Federal Institute of Technology Zurich) and has more than ten years of experience in the solar industry.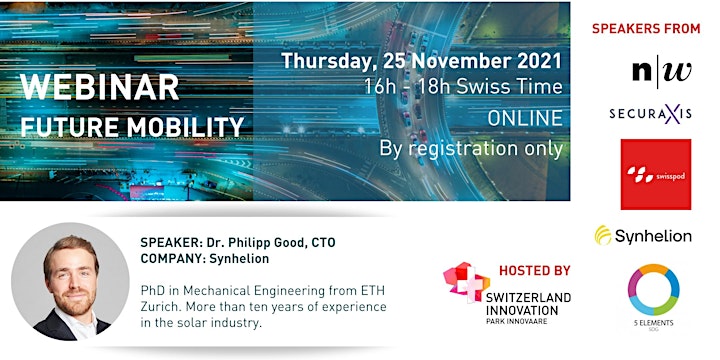 UNIVERSITY OF APPLIED SCIENCES & ARTS NORTHWESTERN SWITZERLAND (FHNW)
FHNW is one of Switzerland's leading universities of applied sciences and arts, actively involved in teaching, research, continuing education and service provision – both innovative and practice-oriented. Its broad range of degree programmes, hands-on concept, innovative, application-oriented research and global network make FHNW a diversified and appealing educational institution, a sought-after partner to industry and an attractive employer in northwestern Switzerland.
Speaker: Prof. Dr. Renato Minamisawa (FHNW)
At our upcoming webinar on the future of mobility, Prof. Dr. Renato Minamisawa from our strategic partner the University of Applied Sciences and Arts Northwestern Switzerland (FHNW), will present highlights of his research including:
Novel converter technologies for electric vehicles (including the project SHINE: an efficient and cost-effective X-Hybrid inverter for electric vehicles realized by combining Silicon-Carbide (SiC) and Silicon (Si) devices).
Prof. Dr. Renato Minamisawa completed his bachelor's in physics at the University of Sao Paulo in Brazil, his Master of Sciences at the Alabama A&M University in the United States and his PhD at RWTH Aachen University in Germany.
After conducting research on advanced semiconductor devices at the Paul Scherrer Institut (PSI) and then in power electronic devices at the ABB Corporate Research Center, Prof. Dr. Minamisawa joined FHNW in 2016.
He currently holds the position of head of laboratory for digital power systems and conducts research in the fields of power semiconductors, power electronics, energy systems and digitalization. He holds more than 50 patents and has written more than 120 peer-reviewed publications.
PAUL SCHERRER INSTITUT (PSI)
The Paul Scherrer Institut PSI is the largest research institute for natural and engineering sciences within Switzerland. It develops, builds and operates complex large research facilities and is located right across the street from the new Switzerland Innovation Park Innovaare campus. For more information about our strategic partner PSI, please click here.
Speaker: Christian Bauer, Researcher
Christian Bauer is a researcher at the Paul Scherrer Institut PSI.
As a member of the Technology Assessment Group since 2004, his main research areas are Life Cycle Assessment (LCA) and sustainability assessment of current and future electricity and heat supply technologies as well as conventional and innovative transport systems. Within the Laboratory for Energy systems Analysis (LEA), he is responsible for the management of LCA projects and LCA related aspects in multi-disciplinary activities of the laboratory.
At the Future Mobility Webinar, Christian Bauer will give a presentation on an open-source tool that he was actively involved in developing: the «carculator» provides assessment of the prospective environmental and economic life cycle of vehicles.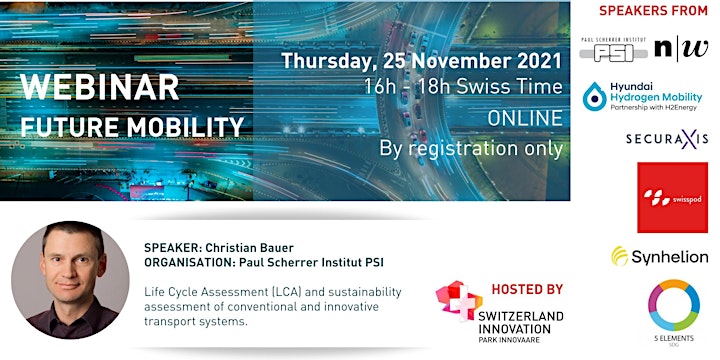 HYUNDAI HYDROGEN MOBILITY AG
The joint venture between Hyundai Motor Company in Korea and the Swiss company H2 Energy was announced at the IAA in September 2018 and was established in June 2019.
In 2020, the first Hyundai Mobility fleet of 46 fuel cell trucks took to Switzerland's roads. These trucks were adopted by 25 Swiss companies. Since then, they have collectively exceeded more than 1 million kilometers of driving. By 2023 Hyundai Hydrogen Mobility plans to have 1,000 trucks and by 2025 1,600 trucks in Switzerland.
How did the import and distribution of hydrogen trucks come about within the Swiss geographical landscape ? What is the impact be on the Swiss environment? Learn about this and more from speaker Beat Hirschi, CEO of Hyundai Hydrogen Mobility AG.
SWISSPOD TECHNOLOGIES
Swisspod Technologies is a spinoff of EPFL (Swiss Federal Institute of Technology Lausanne), founded in 2019 by two multiple-award winners of the SpaceX Hyperloop Competition.
In July 2021, Swisspod launched the first Hyperloop Testing Facility in Europe - project LIMITLESS - together with its academic partner, EPFL. Grant-funded by Innosuisse, the Swiss Innovation Agency, the facility allows for realistic hyperloop benchmarking tests, an important leap forward for the evolution and adoption of sustainable, intra-continental, ultra-high-speed transportation solutions.
For their first research activity, Swisspod and EPFL join forces with HEIG-VD on the development and validation of Swisspod's novel propulsion system design.
Webinar Speaker: Teodor Rosca
Teodor Rosca, is the Head of Avionics at Swisspod Technologies and the R&D Technical Lead for the company's hyperloop testing facility in the United States. With a strong background in analog integrated circuit design and hands-on expertise in mechanical engineering and prototyping, he is involved in the development of Swisspod's electrical systems, including flight control computers, sensor interfaces, and drivetrain electronics.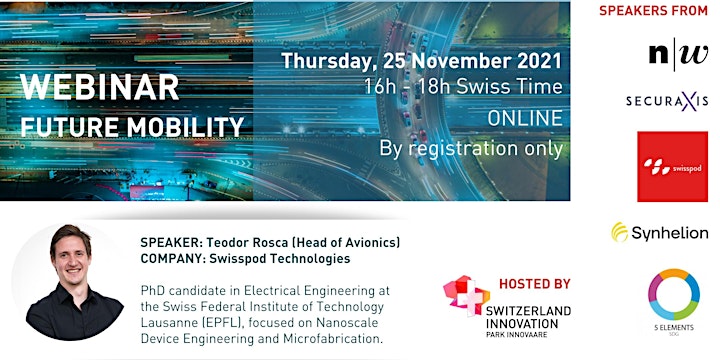 5 Elements SDG is a young and dynamic architectural and engineering consultancy group working at the nexus of three technological interventions:
Smart Cities and Affordable Housing
Renewable Energies and Smart Mobility
Essential Tech for Development
During our Future Mobility Webinar, 5 Elements SDG will notably focus on smart mobility within smart cities, smart mobility and renewable energies as well as smart mobility in India.
Arun Amirtham is an entrepreneur in sustainable development, whose interests include smart cities, affordable housing, renewable energy, smart mobility and essential tech. His new venture, 5 Elements SDG, seeks to foster collaboration, consummate synergies and achieve impact towards a sustainable future for all.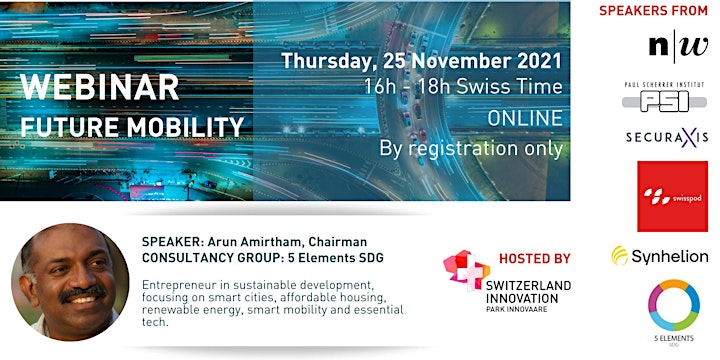 Organizer of WEBINAR: FUTURE MOBILITY
Switzerland Innovation Park Innovaare provides industry with a location directly next to the state-of-the-art research facilities & know-how of the Paul Scherrer Institute PSI (www.psi.ch).
Large companies, SMEs and start-ups receive targeted and ongoing support in interdisciplinary collaboration, technology transfer, networking and business development.
Learn more on our website.