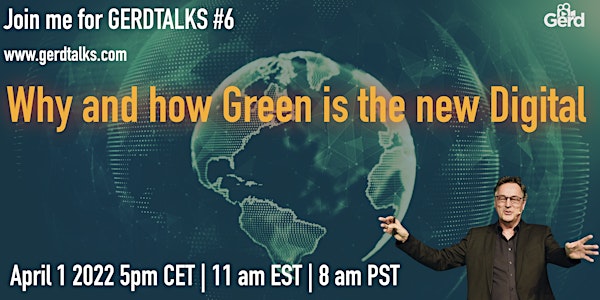 Why and how Green is the new Digital. Futurist Gerd Leonhard Talks#6
The Sustainability Revolution will be even bigger than the digital revolution. Why and how Big Blue (Tech) + Big Green +Big Human = Future.
About this event
We have finally reached the technological and societal pivot points (including Covid-19 and now, the utterly worrisome Ukraine/Russia conflict) quickly propelling us out of the fossil fuel age. Rapid and decisive decarbonisation is on the agenda everywhere, and so is using exponential technologies such as AI, Deep Learning and the IoT to dramatically reduce pollution and overall inefficiencies in all sectors of our economies (traffic, transportation, food, construction, IT and many more).
In this talk I will show why I think 'Green is the new Digital' and what that means for the future of our economies, jobs & work, geopolitics, business and commerce as well as for our personal lives. The next 10 years will bring more change than the previous 100 years - and if you're not on this new 'green everything / circular everything' agenda, you may find yourself outmoded and ignored by 2030.
My presentation will be approx. 15 minutes in duration, followed by a q&a session using Youtube and LinkedIn chats / comments as well as Mentimeter live-feeds (details will follow).
This is a free event. LI and YT URLs will be added a few days before the show.
Find out more:
GerdTalks Microsite | Futurist Gerd Site | Previous GerdTalks on Youtube
The Good Future Film | The Good Future EXPLAINED | What you need to know about the future