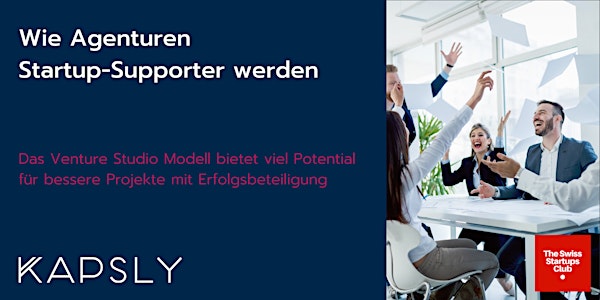 Wie Agenturen Startup Supporter werden
Startups und Agenturen können neue Potentiale wecken, wir zeigen wie das mit dem Venture Studio Modell geht.
About this event
Diese Veranstaltung richtet sich an Dienstleister, die Startups mit IT-Entwicklung, Marketing, Vertrieb oder anderen Dienstleistungen unterstützen wollen.
Wir zeigen auf wie Startups und Dienstleister besser zusammen arbeiten und neue Potentiale wecken können. Startups aus sogenannten Venture Studios haben deutlich bessere Erfolgsquoten und das liegt vor allem an der professionellen operativen Unterstützung die sie erhalten. Auch Dienstleister sind Experten auf ihrem Gebiet, doch zu oft fruchtet die Zusammenarbeit mit Startups nicht direkt. Wir wollen das ändern.
Über KAPSLY können Agenturen:
finanziell von erfolgreichen Kunden profitieren
langfristige Partnerschaften aufbauen
innovative Projekte an Land ziehen und Mitarbeiter glücklich machen
Auslastung optimieren
Im Webinar sprechen über folgende Themen:
Was Startups brauchen
Vergütungsoptionen
Venture Studios
Verträge und die KAPSLY Plattform
Here you can watch one of the past webinars in English.