BRINGING LIVE MUSIC AND FUNDRAISING TOGETHER FOR CHILDREN IN NEED
About this event
--- SCROLL DOWN FOR GERMAN VERSION
WISH UPON A DREAM is a special ONE-OFF EVENT where music and entertainment are at the service of children in need.
Together with fellow musicians and the children's rights organization Save the Children, singer and songwriter Paola Granati wants to put the spotlight on essential needs of children whose dreams of having a better life are shattered because of circumstances outside of their control.
In countries like Afghanistan, Somalia, Ethiopia and many others, children and their families struggle to have access to things we take for granted: food, shelter, clean water, education, health, a safe place to live, play and simply be free.
By donating, volunteering, spreading the word, and taking part of this one-off event that brings together entertainment and meaning in a playful way, we can all help make a difference for children in need!
All profits from ticket sales go to Save the Children, the leading independent children's rights organization active all over the world, whose representatives will also be there for you to engage directly with and learn more about their project work for the most deprived children around the world.
Performing with Paola Granati on stage are:
Lou Cruz on bass
Trevor Dixon on keyboards
Juan Ramos on drums
AND....
a very special appearance of AWARD WINNING CELLIST, Silvan Sterki an extraordinarly talented rising star of the classical music world. Silvan will be playing a few pieces from his repertoire pro bono exclusively for this event!
SO ARE READY TO JOIN US AND MAKE A DIFFERENCE?
WE'RE LOOKING FORWARD TO SEEING YOU AT LABOR5 in ZURICH!
°°°°°°°°°°°°°°°°°°°°°°°°°°°°°°°°°°°°°°°°°°°°°°°
DOORS OPEN AT 16:15 CET w/CHILDREN & FUNDRAISING ACTIVITIES
MUSIC STARTS AT 17:00 CET w/ 2 SETS & SHORT PAUSE IN BETWEEN
EVENT CLOSES AT 18:45 CET
°°°°°°°°°°°°°°°°°°°°°°°°°°°°°°°°°°°°°°°°°°°°°
TICKET SALES AS OF 35 CHF. ALL PROFITS FROM TICKET SALES GO TO SAVE THE CHILDREN.
YOUR DONATIONS AT THE EVENT ARE ALSO WELCOMED.
FREE ENTRANCE FOR KIDS UNDER 12 YEARS OLD
If you cannot make it for this event but want to sign up for updates from Paola Granati and Save the Children just click on the links.
--- YOUR SAFETY & HEALTH MATTERS!
Compliance to COVID -19 regulations will be strictly followed. Covid certificate with proof of vaccination or negative antigen tests plus ID cards will be checked at the entrance.
Refunding of tickets will only occur if the event is cancelled.
--- YOUR PRIVACY MATTERS!
By registering to the event you confirm you are familiar with the data protection of SAVE THE CHILDREN SWITZERLAND and PAOLA GRANATI and that both Save the Children and Paola Granati can contact you for further communication.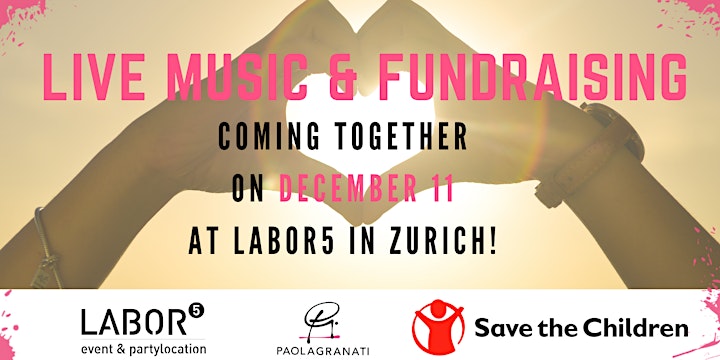 ---- DEUTSCH ---
WISH UPON A DREAM ist eine besondere, einmalige Veranstaltung, die mit Musik und Unterhaltung zu gemeinsamer Solidarität für Kinder in Not aufruft.
Gemeinsam mit anderen Musikern und der Kinderrechtsorganisation Save the Children macht die Sängerin und Songwriterin Paola Granati auf die grundlegenden Bedürfnisse von Kindern in Not aufmerksam. Denn die Träume von einem besseren Leben dieser Kinder werden durch Umstände zunichte gemacht, die sie nicht beeinflussen können.
In Ländern wie Afghanistan, Somalia, Äthiopien und vielen weiteren, haben benachteiligte Kinder und ihre Familien oft keinen Zugang zu Dingen, die für uns selbstverständlich sind: Lebensmittel, eine Unterkunft, sauberes Wasser, Bildung, Gesundheit – ein sicherer Ort zum Leben, Spielen und einfach nur um frei zu sein.
Durch eine Teilnahme, Spenden, Teilen der Veranstaltung im eigenen Umfeld oder über Social Media, volunteering an dieser einmaligen Veranstaltung, können wir alle dazu Beitragen, etwas für Kinder in Not zu bewirken!
Alle Gewinne aus den Tickst-Verkäufen gehen an Save the Children, die führende unabhängige und weltweit tätige Kinderrechtsorganisation. Mitarbeitende von Save the Children werden ebenfalls vor Ort sein und Ihnen gern mehr über ihre Projektarbeit für die am meisten benachteiligten Kinder auf der ganzen Welt erzählen.
Folgende Musiker stehen mit Paola Granati auf der Bühne:
- Lou Cruz am Bass
- Trevor Dixon an den Keyboards
- Juan Ramos am Schlagzeug
UND....
…es erwartet Sie ein ganz besonderer Auftritt des preisgekrönten Cellisten Silvan Sterki, einem ausserordentlich talentierten aufsteigenden Stern der klassischen Musikwelt. Silvan wird einige Stücke aus seinem Repertoire pro bono exklusiv für diese Veranstaltung spielen!
SIND SIE DABEI UND MÖCHTEN GEMEINSAM MIT UNS EINEN UNTERSCHIED FÜR KINDER IN NOT MACHEN?
Wir freuen uns, Sie im Labor5 in Zürich zu begrüssen!
°°°°°°°°°°°°°°°°°°°°°°°°°°°°°°°°°°°°°°°°°°°°°°°°°
- 16:15 UHR: TÜRÖFFNUNG MIT KINDER- UND FUNDRAISING-AKTIVITÄTEN
- 17:00 UHR: BEGINN MUSIK, 2 SETS MIT KURZER PAUSE DAZWISCHEN
- 18:45 UHR: ENDE DER VERANSTALTUNG
°°°°°°°°°°°°°°°°°°°°°°°°°°°°°°°°°°°°°°°°°°°°°°°°°°
TICKETS SIND AB 35 CHF VERFÜGBAR – DER GEWINN AUS DEM TICKETVERKAUF WIRD AN SAVE THE CHILDREN GESPENDET.
DIREKTE SPENDEN AN DER VERANSTALTUNG SIND EBENFALLS WILLKOMMEN.
FREIER EINTRITT FÜR KINDER UNTER 12 JAHREN
SIE KÖNNEN NICHT AN DER VERANSTALTUNG TEILEHMEN UND MÖCHTEN TROTZDEM ÜBER DIE NEUIGKEITEN VON PAOLA GRANATI UND SAVE THE CHILDREN INFORMIERT SEIN? HIER FINDEN SIE WEITERE INFORMATIONEN:
--- IHRE SICHERHEIT UND GESUNDHEIT IST WICHTIG!
DIE EINHALTUNG DER COVID-19-VORSCHRIFTEN WIRD STRENG BEFOLGT. DAS COVID-ZERTIFIKAT MIT NACHWEIS DER IMPFUNG ODER DES NEGATIVEN ANTIGENTESTS SOWIE EIN GÜLTIGER PERSONALAUSWEIS WERDEN AM EINLASS KONTROLLIERT.
EINE RÜCKERSTATTUNG DER EINTRITTSKARTEN ERFOLGT NUR, WENN DIE VERANSTALTUNG ABGESAGT WIRD.
--- IHR DATENSCHUTZ IST UNS WICHTIG!
MIT DER ANMELDUNG ZUR VERANSTALTUNG BESTÄTIGEN SIE, DASS SIE MIT DEM DATENSCHUTZ VON SAVE THE CHILDREN SCHWEIZ UND PAOLA GRANATI VERTRAUT SIND UND DASS SOWOHL SAVE THE CHILDREN ALS AUCH PAOLA GRANATI SIE FÜR WEITERE KOMMUNIKATION KONTAKTIEREN KÖNNEN. SIE KÖNNEN SICH JEDERZEIT WIEDER ABMELDEN.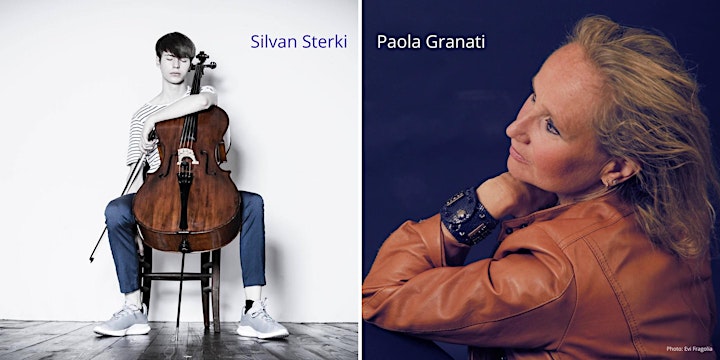 BIO OF SILVAN STERKI
Born in Switzerland in 1999 into a family of musicians, Silvan Sterki began taking cello lessons at the age of 3.
He was only 17 when he was accepted as one of the youngest students in the class of Thomas Grossenbacher at the Zurich University of the Arts. Before that, he studied with Benjamin Nyffenegger, solo cellist of the Tonhalle-Orchestra Zürich, Anna Tyka, Solo-Cellist of the Zurich Chamber Orchestra and Rebecca Firth in the PreCollege.
Also at the age of 17, Silvan debuted at Carnegie Hall in New York and in the same year at Parco della Musica in Rome.
He has won several first prizes at national and international competitions such as the "Golden Classical Music Awards" and the "Rome Grand Prize Virtuoso".
Silvan Sterki draws his musical inspiration from the greatest musicians of our time, among them Frans Helmerson, Jens-Peter Maintz, Wolfgang Emanuel Schmidt, Wen-Sinn Yang, Thomas Demenga, Wolfgang Boettcher, Martina Schucan, Ilya Gringolts and Konstantin Scherbakov.
BIO OF PAOLA GRANATI
Founder of Creative Businesses, Paola Granati brings together more than 25 years of business HR experience with creative entrepreneurship and the performing arts to create spaces of meaningful connections.
Born in Italy, raised in Brazil and in the US, Paola has lived and worked in numerous countries across the globe and has now been living in various parts of Switzerland for over 18 years, (Lausanne, Neuchatel, Zürich), which she now considers her second home!
Paola has been writing songs since she was 9 years old. With well over 1'000 unpublished songs, two albums (The Sounds Of Freedom and The Midnight Sun), a new single released in 2021 (Here We Are) and an upcoming EP in 2022, Paola aspires to bring people together with meaning, purpose and fun through music and special events.
While she has been dedicating her life to pursuing a successful business career, Paola has always invested in the performing arts for it is the highest means of artistic and human expression accessible to everyone.
Paola holds a BA in Political Science from the Università Cattolica of Milano, a Post-Graduate Degree HR Management from ISTUD, a Masters Degree in Songwriting & Music Business from Berklee College of Music and an Advanced Degree in Curatorship and Contemporary Art from the Univeristy of the Arts in Zurich.