DER Anlass für den inspirierendem Austausch unter Frauen aus der ganzen Schweiz.
About this event
Der Women Empowerment Day (WED) soll Frauen darin bestärken, Verantwortung zu übernehmen, ihre Erfahrung einzubringen und ihr Wissen zu teilen. Dafür braucht es Mut, Vertrauen und Mitgefühl – «Courage, Compassion, Confidence» ist deshalb das Motto des WED 2021, www.womenempowermentday.ch.
Eine ganze Reihe spannender, erfolgreicher und vorwärtsdenkender Frauen aus den Bereichen Wirtschaft, Unternehmertum, Politik und Sport und wird an diesem Tag von Ihren Erfahrungen erzählen. Und um die geballte Kraft der Teilnehmerinnen zu nutzen, werden die Inputs der Referentinnen durch kurze Workshops ergänzt. Übungen mit Hands-On-Innovationsmethoden vermitteln direkt Inspiration und prägende Impulse für deine aktuelle Herausforderung.
Einblick ins Programm
Doris Leuthard (Alt-Bundesrätin)& Marie-Claire Graf («Greta der Schweiz»): Warum steiken wir für's Klima? - Zwei Generationen Gestalterinnen im Gespräch
Prof.em.Dr. Kathrin Altwegg (Weltraumforscherin, Universität Bern): Milliarden Lichtjahre, Millionenprojekte und Mutter: Faszinierende Erkenntnisse einer Forscherin
Valérie Schelker (Leiterin Personal, Schweizerische Post) im Gespräch mit einem Young Talent: Sei mutig, neugierig, wunderbar: Ein Dialog über Selbstvertrauen und Offenheit
Dominique Gisin (Olympiasiegerin Ski-Abfahrt): Making it Happen - Mentaltraining im Spitzensport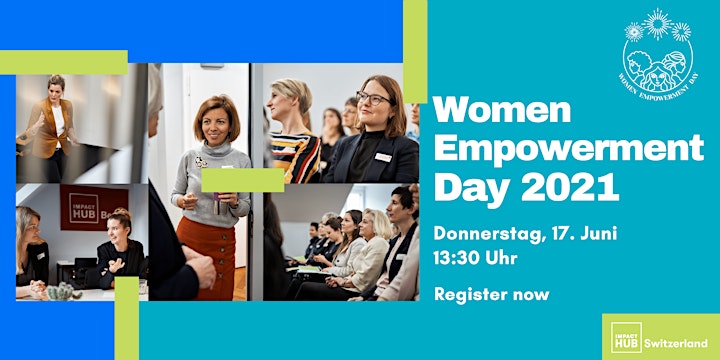 Organiser of Women Empowerment Day 2021
The Impact Hub Switzerland association was founded in May 2019 by the six Swiss Impact Hubs with a total of eight locations in Basel, Bern, Geneva, Lausanne, Lugano and Zurich. The Swiss-wide community of around 2,000 members consists of entrepreneurs, creatives and techies who can now benefit from the services of the Impact Hub network throughout Switzerland as a result of the collaboration.