Workshop am 11. Juli in Zürich Sich für die Liebe öffnen
About this event
Bist du bereit, dich der Liebe zu öffnen?
All diese Enttäuschungen in der Liebe, diese Wunden des Verrats, der Ablehnung oder des Verlassenwerdens bedeuten, dass diese Menschen irgendwann aufgezeichnet haben, dass
LIEBE=GEFAHR
und sie haben sich der Liebe verschlossen.
Dieses Problem kenne ich gut…. Nach 7 Jahren Liebeskummer kann ich dir sagen, dass ich meinem Herzen den doppelten Riegel vorgeschoben habe.
Offen sein für die Liebe ist das Thema meines nächsten Workshops, der am 11. July von 9 bis 17 Uhr im Yoga Scheune Meilen stattfinden wird:
Dieser eintägige Workshop wird es dir ermöglichen zu verstehen, was dich bisher daran gehindert hat, dich der Liebe zu öffnen:
Module
-Modul 1: Deine Liebesbilanz ziehen
-Modul 2: Identifiziere, wie deine Vergangenheit deine Liebesmuster beeinflusst.
-Modul 3: Verstehen was du bisher falsch gemacht hast, insbesondere dein Verhalten und deine Kommunikation.
-Modul 4: Klarheit finden über die Beziehung und den richtigen Partner für dich
Maximal 10 Personen aufgrund von Corona. Falls das Workshop nicht mehr möglich ist wird es online angeboten.
Ort : Yoga Scheune, Burgrain 37, 8706 Meilen von 9 bis 17 Uhr
Preis CHF 297 inkl. Mittagessen von Roots and Friends, Material und Goodie Bag.
Early Bird ticket CHF 260 bis am 21. Juni
Auf Deutsch
Der Workshop wird durch Kundalini Yoga Übungen und Meditationen ergänzt.
Bequeme Kleidung empfohlen. Nimm warme Pullover und Socken mit, da die Veranstaltung im Freien stattfindet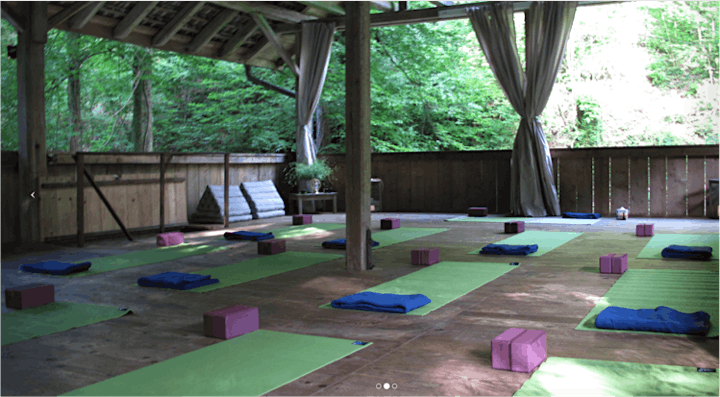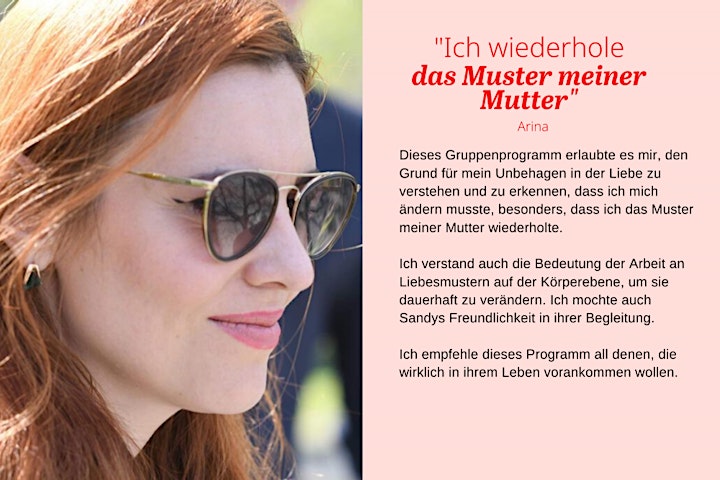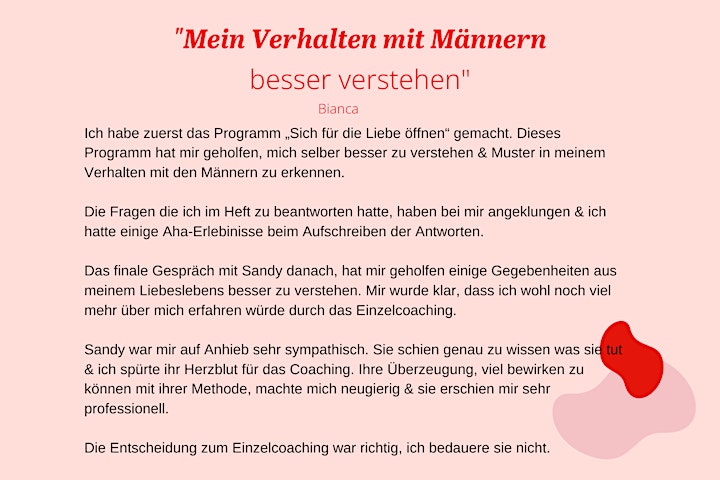 Organiser of Workshop Sich für die Liebe öffnen in Zürich

Je suis coach de transformation et ma passion est d'accompagner les femmes à retrouver leur sérénité afin qu'elles puissent être plus heureuses avec elles-mêmes et dans leurs relations avec les autres. 
J'utilise pour cela deux méthodes : le coaching mental d'une part et l'étiopsychologie d'autre part, soit une méthode psycho-corporelle qui permet de travailler sur son passé et notamment sur ses croyances limitatives.
---