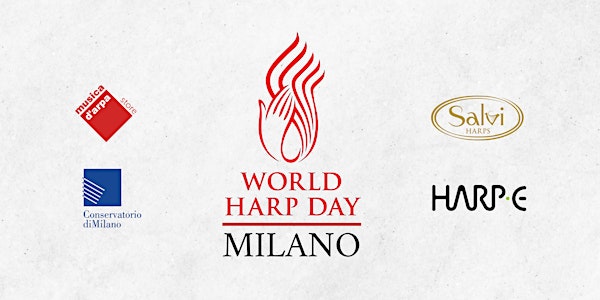 World Harp Day Milano
A Day of Learning, Innovation, and Celebration in Milan with Harp-E and Salvi Harps
Date and time
Saturday, June 10 · 10am - 8pm CEST
Location
La Sala Puccini - Milano Via Conservatorio 12 20122 Milano Italy
Agenda
10:00 AM - 10:30 AM
Introduction and presentation of the Harp Day
10:30 AM - 11:15 AM
Lecture of Maria Elena Bovio on Claude Debussy
11:15 AM - 12:00 PM
Lecture of Gabriella dall'Olio on Maurice Ravel
12:00 PM - 12:45 PM
Lecture of Cristiana Passerini on Bach & Händel Time
12:45 PM - 1:30 PM
Lecture of Lisetta Rossi on Biomechanics in Harp Playing
2:15 PM - 3:15 PM
Students performances
3:15 PM - 4:15 PM
Joris Beats presents the HARP-E
4:15 PM - 4:45 PM
Manuel Zito: Discover the amazing world of Delta Harps
5:00 PM - 5:40 PM
Lecture of Marcella Carboni on Electro Acoustic Harp
5:40 PM - 6:40 PM
Alexander Boldachev - Russian Music
6:40 PM - 7:40 PM
Park Stickney - Colliding Strings & Solo Jazz
7:45 PM - 8:00 PM
Closing of the Harp Day
About this event
Join us for a day-long celebration of the harp at the World Harp Day event in Milan, featuring a diverse array of performances, presentations, and engaging talks from renowned harpists and experts. This unique event showcases the beauty, versatility, and rich history of the harp, while also exploring its future through innovation and creativity.
Schedule highlights:
10:00 – Introduction and presentation of the Harp Day.
10:30 – Lecture of Maria Elena Bovio on Claude Debussy: Gain insights into the world of Debussy's "Danse sacrée et danse profane" as Mrs. Bovio shares her expertise on this iconic piece.
11:15 – Lecture of Gabriella Dall'olio on Maurice Ravel (online): Join renowned harpist dall'Olio for a virtual talk exploring the intricacies of Ravel's "Introduction and Allegro."
12:00 – Lecture of Cristiana Passerini on J. Bach & G. Händel Time: Delve into the world of Baroque music as Mrs. Passerini shares her knowledge of harp repertoire during the 18th century.
12:45 – Lecture of Lisetta Rossi on Biomechanics in Harp Playing: Enhance your understanding of the physical aspects of harp playing as Mrs. Rossi discusses the importance of biomechanics.
13:30 – Lunch: Take a break and enjoy a delicious lunch while networking with fellow attendees.
14:15 – Student Performances: Be entertained by inspiring performances by talented young harpists from the prestigious Italian Conservatories.
15:15 - Joris Beats presents the HARP-E: Discover Beats' groundbreaking invention, the HARP-E, and learn how it pushes the boundaries of harp music.
16:15 – Discover the amazing world of the Delta Harp with Manuel Zito
16:45 – Break: Take a moment to relax and prepare for the final exciting sessions.
17:00 – Lecture of Marcella Carboni on Electro Acoustic Harp (online): Join Carboni virtually as she explores the fascinating realm of electro-acoustic harp music.
17:40 – Alexander Boldachev - Russian Music: Experience Boldachev's spellbinding arrangements of Russian music, followed by performances from the Lira Helvetia Swiss Competition laureates.
18:40 - Park Stickney - Colliding Strings & Solo Jazz: End the day on a high note as Stickney showcases his original compositions and arrangements, blending the worlds of jazz and harp.
19:45 - Closing of the Harp Day.
Don't miss this incredible opportunity to immerse yourself in the world of the harp, learning from experts, witnessing innovation, and enjoying a day of unforgettable performances. Register now to be a part of World Harp Day in Milan!
About the organizer
I​n the year ​1720,​ European harp-maker Jacob Hochbrucker ​invented​ the pedal mechanism. This is a significant moment in harp history, which brings Concert Grand Harp on stage. Various forms of early-harp prototypes can be found throughout ​the history of most countries​. These instruments relate deeply to the ​unique identity​ ​of​ ​each culture​. Yet our common qualities should evoke a sense of connection and harmony​ that reminds everyone of the importance of building a ​stereotypes-free society​ where neither music nor people are limited in self-expression.
The ​main goal​ of the World Harp Day is to create a fertile ground for cultural dialogue: this new tradition shall become a​ reminder of peace and unity​ to all countries, and a source of inspiration for the development of the harp as a diplomatic symbol of art, health, and solidarity in addition to a magnificent musical instrument.