Zero Waste Gastro Stammtisch # 3 - Zero Waste Angebote & Lieferanten
About this event
In insgesamt fünf Gastro Stammtischen wollen wir gemeinsam erörtern, wie ihr auch in eurem Gastrobetrieb Müll einsparen könnt - von Take Away Verpackungen über Lieferanten hin zu Lebensmittelverschwendung. Eingeladen sind System-/Gastronomen in und um Basel.
Es geht weiter in die dritte Runde im Café spurlos, Impact Hub Basel: am 22.11.2021 von 17-19 Uhr (die Türen öffnen sich ab 16:50 Uhr) möchten wir mit euch in unserem Gastro Stammtisch uns verschiedene Beispiele von Lieferanten ansehen und verstehen, wie Lieferanten Müll minimieren können.
Ablauf:
Was unternehmen Lieferanten bereits in Basel?
FYN Foods
Arbuckles
Mimmis Kombucha
Wie kann ein nachhaltiger Lieferdienst funktionieren?
Speed Networking
Machen wir uns auf den Weg in eine Gastronomie ohne Verschwendung - Genuss bis zum Schluss. Wir reichen dazu ein Getränk in unserem Café spurlos im Impact Hub Basel, unserem Zero Waste Café vor Ort.
Melde dich an für die Themen, die Dich interessieren. Wir freuen uns! Wollt ihr selber eine Lösung oder ein Problem vorstellen? Dann meldet euch bei Jennifer Bortel, jennifer.bortel@impacthub.net.
*******
Es gilt die Zertifikatspflicht 3G (genesen, getestet oder geimpft).
*******
Danke an unsere Partner:
Im Rahmen des Zero Waste Innovation Lab des Impact Hub Basel arbeiten wir gemeinsam mit tollen Partnern und Sponsern wie Christoph Merian Stiftung, Zero Waste Switzerland, cafe spurlos, Let`s Talk Waste, Innosuisse, FHNW, Basel Isst Abfallfrei der Stadt Basel und Startups aus unserem Zero Waste Innovation Lab Accelerator.
Please note that by registering and participating in this event, you agree to the recording of your appearance and/or your voice, which Verein Impact Hub Basel can publish in photos, videos and accompanying sound recordings via online and offline media and for marketing purposes.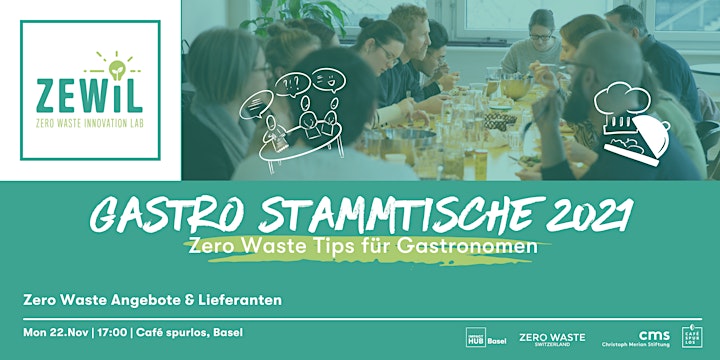 Organizer of Zero Waste Gastro Stammtisch # 3 - Zero Waste Angebote & Lieferanten
Impact Hub is a global network of over 16'000 members in over 100 hubs in 50+ countries, and is continuously growing. Its main purpose is to make a positive impact in our world by combining the skills of compassionate, committed and purpose-driven individuals focused on a common purpose. Each individual Impact Hub chapter is unique and relevant to the local community.
At Impact Hub Basel, our aspiration is to support social entrepreneurs and sustainable innovators. Through various offers ranging from events and coworking to different incubation and acceleration programs, we aim to promote the interaction between our members and the different stakeholders. In this way, we strive to create a highly collaborative ecosystem where innovation and change are encouraged, where access to expert resources, inspiration and knowledge is made easy and where communication and contacts between diverse, skilled people are facilitated.
All of our activities are guided by the 17 Sustainable Development Goals (SDGs) as defined by the United Nations. To ensure that our efforts are as successful as possible, we focus on five SDGs that are most relevant to our local community needs.
SDG 3 — Good Health & Well-Being
SDG 11 — Sustainable Cities & Communities
SDG 12 — Responsible Consumption & Production
Because the SDGs can only be realized with strong partnerships, you won't see SDG 17 Partnerships for the Goals on our list; but it is there in everything we do.
Subscribe to our monthly newsletter: newsbasel.impacthub.net